NBA Live 19: The Top 5 Power Forwards That You Should Buy First - Giannis Antetokounmpo, Draymond Green, LaMarcus Aldridge, Kevin Love & Kristaps Porzingis
No one team could own all the most excellent players. If it comes true, then there will be no game in the world, right? So it always troubled NBA Live gamers to think how they can get the card of the players that they hoped as much as possible or which player that they should buy first so that they will not feel regret in future. By today, there are just less one month until the release of
NBA Live 19
, the newest version of NBA Live series. Therefore, there is no more time for gamers to consider and decide who will be the first player that they spend their coins.(The
Cheapest NBA Live 19 Coins
is provided in 5mmo.com) Today, we will give you a reference about the
top 5
Power Forwards
that you can buy first.
1. Giannis Antetokounmpo (90 Overall), Milwaukee Bucks
2. Draymond Green(88 Overall), Golden State Warriors
3. LaMarcus Aldridge (87 Overall), San Antonio Spurs
4. Kevin Love (87 Overall), Cleveland Cavaliers
5. Kristaps Porzingis(86 Overall), New York Knicks
Now, let's take an inside look at them one by one.
Giannis
has solidified himself as one of the game's elite, and he's worked hard to get there. You have to respect the hustle and grind displayed over Giannis' short career to grasp the stardom that he has attained. In year one, he averaged 6.8 points per game and 4.4 rebounds over 24.6 minutes. Last year, his fifth, he put up 27 points, 10 boards, and 4.8 assists with 1.5 steals and 1.4 blocks. He also shot 53% from the field. His defense is impeccable, his offense includes being able to handle the ball, drive, and use his length to convert typically impossible shots.
Draymond Green
's numbers don't stand out the same way other all-stars' numbers may, but that doesn't mean they aren't impactful. In fact, each of the last two seasons, Green has averaged seven-plus boards and assists while putting up great defensive block and steal numbers. He's a huge reason why the Warriors have the defensive dominance that they do, and he finds ways to change the game even without needing to score.
The next two players own the same
87 Overall
ratings. But they come from different team. LaMarcus Aldridge comes from
San Antonio Spurs
while Kevin Love comes from
Cleveland Cavaliers
.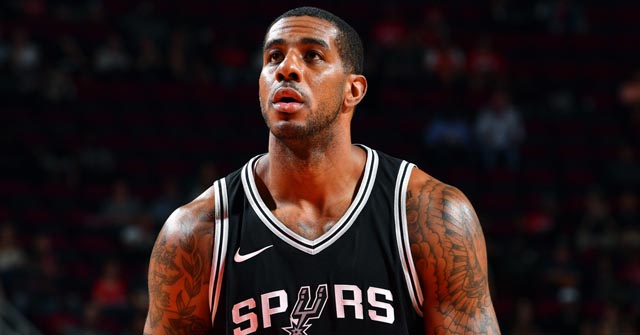 Last year,
LaMarcus Aldridge
handled his business on the court and put up his highest scoring average since he was in Portland at 23 per game. He also averaged 8.5 rebounds per game, shot 51% from the field, and tied his career high in blocks per game.One of the unnoticed stats in Aldridge's line is that 3.3 of those 8.5 boards were offensive rebounds – an underrated aspect of his game and the highest total for him since he had 3.4 per back in 2010-2011.
Kevin Love
is easily to be Cleveland Cavaliers' most talented player moving forward and that's due to being a prototypical stretch-four. He's got the size, he's got the strength, and he's got the shot to be an elite three-point shooter (41.5% last season) and big option – it's just about how effective he can be. The other aspect of his game that's so special is his passing ability. That is to say, his baseball pass is on-target almost every time, and he seems to find lanes most other bigs won't.
Porzingis
is only 23 and he is on the track to becoming a unique player for his position. He carries big man stats scoring around the rim and block shots, but he also is on the fluid side running the court like the unicorn he is. His ability to create out while on the break is eye-opening, as we've only had a handful of players able to dish like him at seven-feet tall.
Although NBA Live 19 is not available now, it has become an expecting to wait its release and to see the excellent performance of these great players! By the way,
5mmo.com
will keep paying attention to the new moves of NBA Live 19 and other hot games. So if you want to know more information about them, you can come to there.