NBA Live 19: Top 5 Point Guards that You Should Buy First - Steph Curry, Russell Westbrook, Kyrie Irving, Chris Paul & John Wall
The details about the top 5 Centers, shooting Guards, Power Forwards and Small Forwards have been introduced in the previous news. If you have not seen these news and also want to have a knowledge about them, you can come 5mmo.com by click
here
. And today, we will introduce the details about the the Top 5 Point Guards that you can buy at first according to the Overall rating of the players in NBA Live19. And this also will be the last time to do an introduce about the players that gamers can buy at first because by now, NBA Live just reveal the top players at these positions. And I must to say the players of Point Guards that I will introduce today are the most excellent players among these positions that I have introduced because all of them has arrived at a rating of more than 90 Overall. Now, let's take an inside look at them one by one.
The first point guard that I will introduce today, also the player who own the highest Overall among the top five players is
Steph Curry
who comes from the team of
Golden State Warriors
with a rating of 94 Overall. In only nine NBA seasons, Steph has amassed three NBA championships (all in the last four seasons) and was only 0.5% away on his overall field goal percentage from hitting the 50-40-90 club yet again. His outside shooting ability is what separates him from anyone else in the world but don't sleep on Steph's midrange game and playmaking – he's crafty.
Then, the players who come in second are Russell Westbrook and Kyrie Irving because both of them own the same high rating of 93 Overall.
Russell Westbrook
comes from Oklahoma City Thunder and Westbrook is one of the most unique players this league has ever seen. What makes him so unique doesn't come from the stats, though. We're spoiled watching Russ' versatile athleticism night-in and night-out: he'll dunk on you, he'll grab boards, and he'll scream in your face when he's feeling it.
When we come to
Kyrie Irving
, he plays an inportant role in his team Boston Celtics and he did his thing last year to the tune of 24.4 points, 5.1 assists, and 3.8 rebounds per game. While he missed the tail end of the season, he had a truly efficient year, shooting a career-high 49% from the field. Kyrie's the king of handles, and he shows it with nightly highlights. With speed and a killer scoring touch, Kyrie is one of the top point guards in NBA LIVE 19.
The next player comes to talk is
Chris Paul
from
Houston Rockets
with 92 Overall. The point guard himself checks in with the third highest point guard rating – a number that testifies that he's aging like fine wine. Paul, in season 13, averaged over 18 points a game with over five boards and almost eight assists. The reason why CP3 finds himself on several all-time lists is because of his vision on the floor – he is one of the greatest passers to have ever set foot on the court, and he's a true facilitator.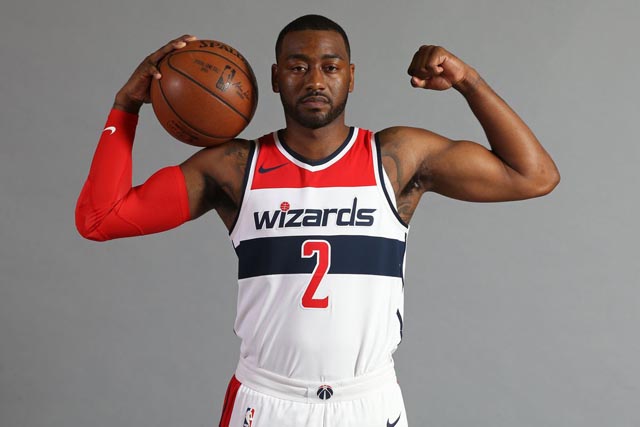 Although
John Wall
is the last player among these five point guards with the lowest rating, his rating still arrives at 90 Overall. So I said that these five players that I introduce today are the most excellent players in the beginning of the news. Naturally, the amount of the coins that you must pay for the cards of them in order to buying them back to your own squad are also not small. But don't worry, the
Cheap NBA Live 19 Coins
are sold in 5mmo.com with 100% secure payment and low price. By the way, the unprecedented discount is provided now!
John Wallstruggled with injuries for much of last season, only playing 41 games. By April, Wall's season was over but that doesn't mean he didn't have an incredible year averaging an astounding 10.2 assists per game and hitting 37.1% of his shots from distance – a number that's easily his career-high. The encouraging range mixed with his innate freak-athleticism make Wall one of the most exciting players to watch. You don't want to be back-pedaling on a fast break against Wall, as his handles, passing, and athleticism are setting you up to be embarrassed.
More details about NBA Live 19 you can find in 5mmo.com.