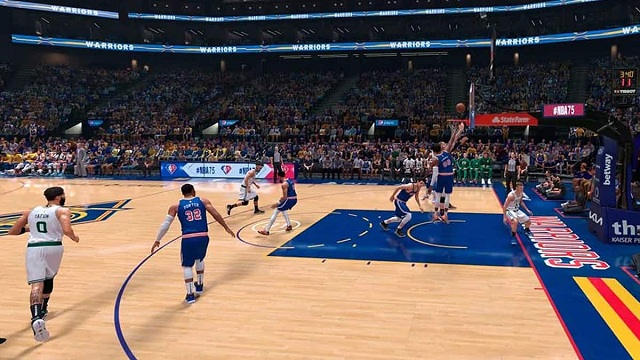 Do you want to build the best Point Guard in NBA 2K23? The Point Guard is often the shortest player on a NBA team, and he play an important role in assisting teammates and completing offensive possessions. If you are looking for the guidance about the best Point Guard build, you can learn from this article. Players can use
Cheap NBA 2K23 VC
to purchase good equipment for player in the game and improve their capacities in the matches.

How to Build the Best Point Guard in NBA 2K23
This new-gen Point Guard build is a shooting and playmaking demigod, with decent perimeter defence and incredible badge potential. This build can reach a maximum 99 OVR rating, and can be upgraded with 70 Badge Points, including: 18 Finishing Badge Points, 24 Shooting Badges, 22 Playmaking Badge Points, and 6 Defense / Rebounding Badge Points.
Being a point guard, a lot of the responsibilities fall on your shoulder as you have to assess the whole situation and make adjustments in your team's offense and defense, and in general, you have to be pretty good at handling the ball.
Point Guards are usually referred to as "The Heart" of the team because of the type of responsibilities they have to fulfill.
Body Settings:
Height: 6'1''
Weight: 170lbs
Wingspan: 6'7''
Body Shape: Slight
Attributes Setting:
Set your max potential. Badge Points are unlocked through gameplay and can be used to equip badges once attribute requirements are met. For each category of badges, 10 badge points must be equipped between Tiers 1 & 2 to equip tier 3 badges.
Finishing
Close Shot: 55
Driving Layup: 80
Driving Dunk: 85
Standing Dunk: 38
Shooting
Mid-Range Shot: 81
Three-Point Shot: 92
Free Throw: 74
Playmaking
Pass Accuracy: 70
Ball Handle: 94
Speed with Ball: 86
Defense / Rebounding
Interior Defense: 40
Perimeter Defense: 55
Steal: 69
Block: 27
Defensive Rebound: 32
Physicals
Speed: 85
Acceleration: 80
Strength: 30
Vertical: 75
Stamina: 90
Badges Setting:
While creating your build, you'll need to think carefully about the type of Badges available to you and how many Badge Points your potential will enable you to unlock. While Badges can be changed fairly quickly and easily as required, it's important to think ahead about what kind of buffs you want and what their requirements entail.
Finishing Badges
Limitless Takeoff: Silver
Posterizer: Silver
Fearless Finisher: Silver
Giant Slayer: Hall of Fame
Shooting Badges
Limitless Range: Gold
Dead Eye: Gold
Blinders: Gold
Green Machine: Silver
Guard Up: Gold
Amped: Gold
Clutch Shooter: Bronze
Playmaking Badges
Quick First Step: Hall of Fame
Mismatch Expert: Gold
Handles For Days: Gold
Unpluckable: Bronze
Killer Combos: Gold
Bail Out: Bronze
Defense/Rebounding Badges
Menace: Bronze
Off-Ball Pest: Bronze
Takeover
Primary Takeover: Spot Up Shooter
Secondary Takeover: Slasher
If you are looking for the best Point Guard build in NBA 2K23, you can consider this guidance to build your own Point Guard in the team. If you want to level up your character quickly, you can
Buy NBA 2K23 VC
to improve the basic stats of your player and upgrade the level of badges quickly in NBA 2K23.