New World Game Guide: How to Get Winter Wanderer Reputation in the Winter Festival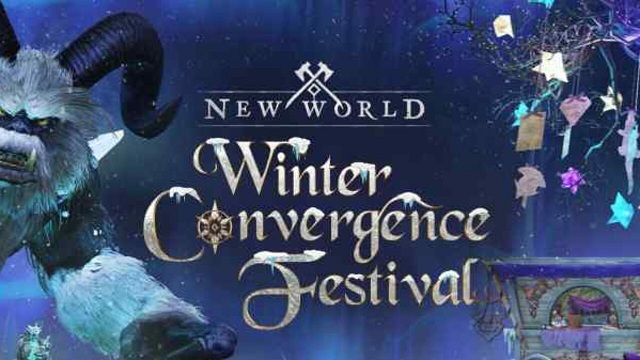 With the coming of the New World Winter Converge Festival, players are eager about participating in the new activities and gathering various new items in the game. During the festival, players are also need to improve their ranks in the Winter Wanderer's Shop in order to get good items in the end. The new New World Winter Wanderer has lots to offer including, reputation, goodies, Christmas presents and more awards for those who interact with him for the length of the event. So, it is essential to get more reputation for players. Meanwhile, you can also buy
New World Gold
to collect more festival presents for your friends in the game, they will be happy about these presents.

What is the Winter Convergence Festival Event?
The Winter Convergence Festival Event is New World's seasonal Holiday Event. This Event will see you helping a Yeti, referred to as the Winter Wanderer, recover their memories and stop the Winter Warriors. The Winter Warriors being other Yetis that wish to make Aeternum "Forever Winter". There's many ways to help the Winter Wanderer, all of which can reward you with unique items and seasonal loot.
Where to find the Winter Wanderer?
The New World Winter Wandered is an NPC you can find in the various Christmas villages that have sprouted around Aeternum. There are four New World Winter Villages, which you can find in Weaver's Fen, Brightwood, Everfall and Monarch's Buff.
Each of these villages offers players the chance to get Christmas presents every day. So, make sure to note where they are and try visiting them as much as you can.
The Convergence Spirit
During the Winter Convergence Festival, players can take part in a special Town Project which can be visited at any Settlement. As a collective, players can finish tasks that will upgrade the Settlement's Tree of Light. Upgrading the tree leads to improved daily gifts that can be collected at the tree, awarding reputation and tokens. New World players who have reached level 60 can also get a Diamond Gypsum from their first three interactions with it which can be used to form a Gypsum Orb. These valuable items can be used to increase a specific item's expertise.
How to Get Winter Wanderer New World Fame
The Convergence Store is divided into five levels. They are: Rank 1 Celebrity (starting point), Rank 2 Celebrity (at 1,000 Reputation), Rank 3 Trader (at 3,000 Reputation) Rank 4 Joybringer (at 6,000 Reputation points) reputation), and 5th Holiday Manager (at 10,000 reputation points). As you can see, it will take a lot of farming to get to the top ranks. There are several ways to increase your Reputation. The first way is to collect gifts. They are scattered all over the map. Collecting each will give you 5 Reputation. While this is a fun activity, it won't really get you 10,000 Reputation quickly, so you can mostly skip it.
The Winter Wanderer has a Daily Gift next to it. Search Bountiful Gift Sack every day to gain 125 Reputation. Since there are four Winter Villages, you can get 500 Reputation daily (4 x 125) this way. Finally, each city has a Daily Gift that will give you another 100 Reputation. Look for the Splendid Gift Pile under the Tree of Light in each Settlement for this. All in all, even with all these methods, it will take you a few days until you build enough reputation to get to Rank 5, so be patient and collect as many daily gifts as you can until at that time.
Players are willing to take part in different activities in the Winter festival in order to get more specific presents. If you expect to get more items for your character, you can
Buy New World Coins
to purchase some special items in the game. You can find cheap prices about New World Coins on 5mmo.com.