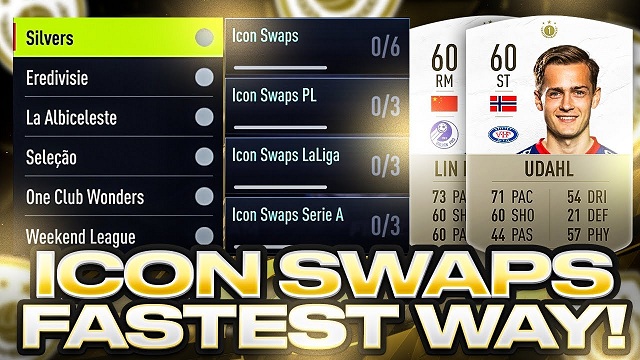 Icon Swaps are the way to get legend cards and rewards in FIFA 22 Ultimate Team. Players can exchange players to complete some missions and obtain enough tokens from these exchanges. If you want to complete Icon Swaps quickly, you can learn from this guide. Moreover, there are also some necessary items for team players during matching, you can buy
FUT 22 Coins
to select them for your players in the team.

What are Icon Swaps?
First off, let's give a quick rundown of what the Icon Swaps are and why you need to complete them. By completing these Icon Swaps objectives you will gain the reward of a card that acts as a token. If you check the Squad Building Challenges hub, you will notice there are new Icon Swaps in there, where you redeem your tokens to gain rewards. These rewards vary from packs full of higher-rated players, packs containing random Icon cards or Icon picks, or just a straight swap for a specific Icon. These objectives let you bring in some of the best cards in the game, without having to spend masses of coins to do so, and rewards players completing objectives, not just competing against each other.
How does Icon Swaps work?
By completing each specific objective, players will earn an Icon Swaps token on FIFA 22. These come in the form of 60-rated cards that would otherwise be of no use to most SBCs – meaning you can't accidentally submit them elsewhere in most circumstances.
Each token has the exact value of one, and there are 18 tokens up for grabs in total. Normally, each Icon Swaps promo is split into two parts, meaning you can collect nine Icon Swaps tokens in each period.
Once you have collected Icon Swaps tokens on FIFA 22, you can exchange them for special packs or in-game icons. This is done through the Squad Building Challenges section of the game menu.
There are a number of exciting rewards available for you to unlock. As the standard of player or icon goes up, so does the number of tokens required to unlock it. Even if you are able to achieve all 18 tokens, you won't be able to unlock every single SBC – so you must choose carefully.
How to Complete Icon Swaps Quickly
You Should Plan your icon swap trip carefully
Take a close look at the rewards and plan now which cards and packs you want to earn. For example, if you are on the hunt for Rio Ferdinand for 7 tokens and a basic / communication icon pack for 8 tokens, you will know that you need a total of 15 of the 19 available tokens.
So you can ignore 4 difficult tasks and have fewer FUT matches ahead of you. It is also helpful to think about the most sensible combinations. The following options, for example, look exciting:
Casillas + Ferdinand + 83+ x25 pack for a total of 18 tokens
89+ mid icon pack + 83+ x25 pack for a total of 18 tokens
You Should Build a team to do as many tasks as possible at once
Especially the Squad Battles tasks, in which you have to play games against the AI, can quickly degenerate into dull work. It is therefore worthwhile to complete several tasks at once, so that in the best case scenario you can unlock 3 tokens with 6 games.
It is therefore advisable to build a team that consists of the following cards:
11 silver cards,
all of which come from Brazil or Argentina and that you own as the first owner.
Also note that these Squad Battles tasks are only about the starting formation. As soon as the game starts, you can immediately replace your top strikers in order to make the tasks a little easier.
FIFA 22 Icon Swaps Rewards
Marc Overmars (90) – 9 tokens
Iker Casillas (89) – 6 tokens
Gianluca Zambrotta (89) – 14 tokens
Rio Ferdinand (88) – seven tokens
Marcel Desailly (88) – 11 tokens
Wayne Rooney (88) – 17 tokens
Alessandro Del Piero (87) – 12 tokens
If you have got the way to complete Icon Swaps, you can try to experiment in FIFA 22. If you look for any other good players for your team, you can
Buy FIFA 22 Coins
to purchase them in Trading Market. Cheap FIFA 22 Coins are sale on 5mmo.com.