FIFA 22 Best 352 Custom Tactics: FUT 22 Best 352 Custom Tactics For Ultimate Team Mode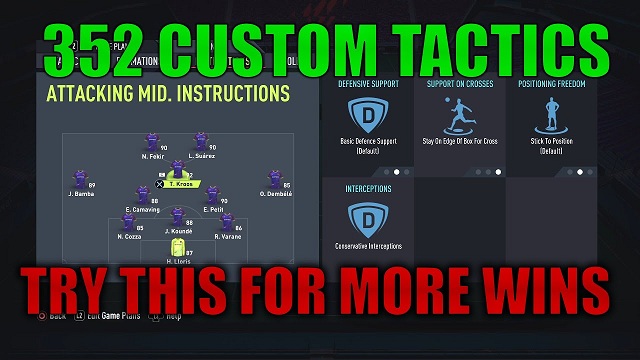 Many players are interesting in playing FIFA 22 Ultimate Team Mode, because they can make their specific custom tactics for their dream teams in this mode, and they expect to defeat more opponents and win more good rewards. I am willing to introduce the best 352 custom tactics for FUT 22, you can read this article to know how to use it in FIFA 22. You can buy
FUT 22 Coins
to find the suitable players for your team, which can help you win more matches in FIFA 22.

Why Do I Choose 352 Custom Tactics?
352 formation is one of the most solid formations in FIFA 22. It has 3 central defenders (possibly with one acting as a sweeper). This system is heavily reliant on the wing-backs providing width for the team. The two wide full-backs act as wing-backs. It is their job to work their flank along the full length of the pitch, supporting both the defence and the attack.
This formation presents you with a plethora of options in both the Attacking and Defensive thirds of the pitch.In Attack, I always feel like there is an extra pass to play and remove the effectiveness of my opponents' press and/or challenges flying in. The triangles around the pitch are evident and it always feels like you have at least a 3v2 advantage when trying to knock the ball around into space. The double striker remains key in this FIFA in my opinion and in this case, a dedicated CAM in behind them adds that extra potency in attack. The same can be said in Defense which is what ultimately makes this formation so impressive. I feel like I can always be aggressive with my controlled player because if I should miss a tackle there is always cover.
How to Set 352 Custom Tactics in FIFA 22
Player instructions
CDMs: Cut passing lines, Cover center
LM & RM: Come back on defence, get into box for cross, and stay wide
CAM: Stay forward
ST: Both Stay forward, Get in behind
Defensive tactics
Defensive Style: Balanced
Depth: 65
Width: 45
Offensive tactics
Build Up Play: Long Ball
Chance Creation: Direct Passing
Width: 50
Players In Box: 5 bars
Corners and Free Kicks: 3 bars
How to Play 352 Custom Tactics in FUT 22
You should remember that the LM and the RM are key to this formation.They do all the running, back and forth. So make sure you have high stamina full backs as the LM and RM. They will create a lot of chances for you. Be sure to spot them making those overlapping runs and lob the ball to them. This will be your primary strategy. Other than that you would to get the ball to the CAM as soon as possible. They pass around between your strikers. Get in behind would help you make those end game lob through balls this year.
If you want to try 352 formation for your team, you can follow the guidance in this article. And if you are lack of good players in essential positions, you can
Buy FIFA 22 Coins
to purchase them from the Auction House easily. 5mmo.com sells them in cheap prices.