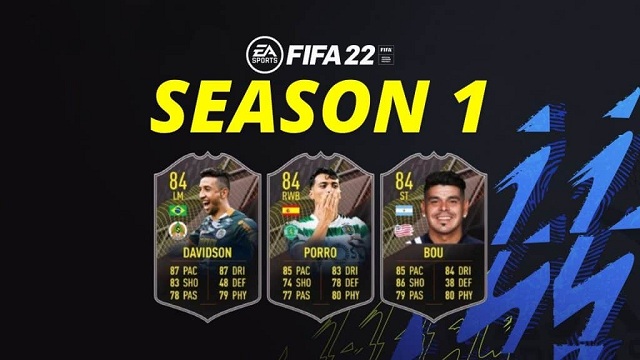 FIFA 22 Seasons mode is known as the staple of FIFA Series, having been a popular part of FIFA Series for a long time. Players can choose any real club, and players of these clubs who will keep updated with their stats. Players should try to reach Division 1 in the beginning of Division 10. Moreover, if you want to have more good players for your team, you can buy
FUT 22 Coins
to select the players you demand for team in FIFA 22.
Whether selecting a team the player supports, or a four-and-a-half star up and comer, or even an international team; different teams will have different strengths and weaknesses. FIFA 22 has a very popular meta, which makes superstar teams become the best choices because of the wonderful overpowered stats of club players. Seasons is known as one of the best modes on FIFA, and plenty of players choose the team due to their experience.

FC Barcelona
Although Suarez and Messi have left Barcelona, they are still one of the best teams to play on FIFA.But, because of lacking fast options for counterattacks, some novice players may not know how to deal with this situation in this team.
Players should pay attention to play possession-based, slow-build-up football with Barcelona, but if you can use Dembele for quick bursts of pace that barely any defenders on the pitch can catch up with. Players should be patient with the ball and deal with the opponent's defense slowly, which will take advantage of the strengths of this team.
Real Madrid
Real Madrid may lose its dominance in recent years, but they keep a very strong team that still has a variety of nice players, such as Hazard, Vincius Jr, Benzema, and Courtois.
You can change the Real Madrid setup finely and it is not friendly to beginners as other teams available. Players who can control the tempo of the match at a fast pace and are good at holding possession will make a lead on the pitch with this team.
Piemonte Calcio
Piemonte Calcio makes up for its lack of famous players with a fantastic, versatile team that balances pacey options with skillful ball-playing midfielders that still pull through defenses even without Cristiano Ronaldo. Some Players can still have a positive effect on the court, such as Arthur, Dybala, Cuadrado, and Chiesa.
The standard formation and player instructions are pretty enough for this team, but if players want to speed up the build-up play, they can also slightly push forward the wingers for offensive. Players may build a Serie A FUT team build composed mostly of Piemonte Calcio players. This team will be competitive in the League.
Manchester United
Man United has been trapped in the troubles for a long time, but their FIFA opponents have only become stronger due to the new famous players.Meanwhile, Man United has the highest-rated forwards in the game.
There are new arrivals like Cristiano Ronaldo, Jadon Sancho, and Raphael Varane for the team, who can ioffer Man United a solid defense with plenty of attacking options. Man United should be performed extremely fast and aggressive. Players can choose to go all-out attack at the beginning, which often leads to success. If struggling, players can change to ultra defensive/defensive and depend on pacier players such as Rashford, Sancho, and Ronaldo to catch up with the opponent.
There are also some other teams that not mentioned in the guide, players can select the team that adjusts to their playstyle in FIFA 22. Players can
BUY FIFA 22 Coins
to purchase the best players in order to improve the offensive line of teams in the game, which will score more goals in the match. Players can find cheap prices about FIFA 22 Coins on 5mmo.com.