FIFA 22 Best 4312 Custom Tactics- FIFA 22 4312 Custom Tactics For Winning FUT Matches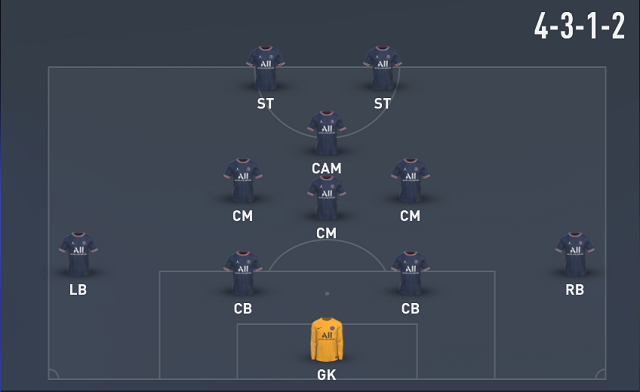 FIFA 22 FUT Mode makes players build their dream team and play matches against foes in the game. In order to win more matches in FUT 22, they are willing to make the specific custom tactics for team. There is the guide that help you set up 4312 custom tactics for your team, one of the best custom tactics in FIFA 22.
FUT 22 Coins
can be used to purchased good players from the Auction place.

4312 Formations
The 4-3-1-2 is compact in the middle and allows you to play a possession-based game, using your fullbacks to provide width in both offensive and defensive areas. This formation is effective at flooding the midfield, meaning that it can be used to foil to formations like 4-4-2, although it relies on energetic fullbacks who will need to shuttle up-and-down the field.
The downside is that longballs into the channels can leave you completely and utterly exposed, particularly against pacey players in wide areas. However, with two strikers upfront and a CAM feeding them, you'll be able to apply pressure in the final third consistently, pressing opponents into mistakes and effectively operating under the conditions of "offence is the best defence".
FIFA 22 Best 4312 Custom Tactics:
The 4312 is the ideal module for those who prefer a very robust defensive phase and like to fly towards the opponent's goal with deadly counter-attacks. Thanks to the two strikers and the attacking midfielder, usually all very close, you can launch the two strikers indiscriminately, creating great unpredictability. The line of 4 defenders with the help of 3 midfielders who guarantee solid coverage in the central area of the field.
Both Strikers on Drift Wide and Get in Behind. Trust me if you have stay central they will never ever make those runs. They will be marked by the opponent's defenders and you would be able to break the defense with through balls. Drift Wide actually splits up the defense making it easier for the CAM to run into the box Unmarked. Imagine a Scenario where your striker drifts wide and runs behind. If your opponent does not follow him you can lob the ball to him easily. If your opponent follows him then you can easily move into the box with your CAM.
Defence:
Defensive Style: Balanced
Width: 55
Depth: 50
Offence:
Build Up Play: Slow Build Up
Chance Creation: Possession
Width: 55
Players in Box: 4
Corners: 2
Free Kicks: 2
FIFA 22 4312 Custom Tactics Player Instructions:
GK: Comes to Crosses – Sweeper Keeper
RB: Stay Back
LB: Stay Back
CB: All Default
CDM: Stay Back – Cut passing lanes – Cover Center
CM: All Default
CM: All Default – Go into to box for cross
CAM: Free Roam
ST: get in behind
ST: get in behind
When you know how to make the 4312 custom tactics for your FUT team, you need to practice more to be familiar with it. And you can
Buy FIFA 22 Coins
to select suitable players in each position of your team. They will enhance the ability of your team in the match.