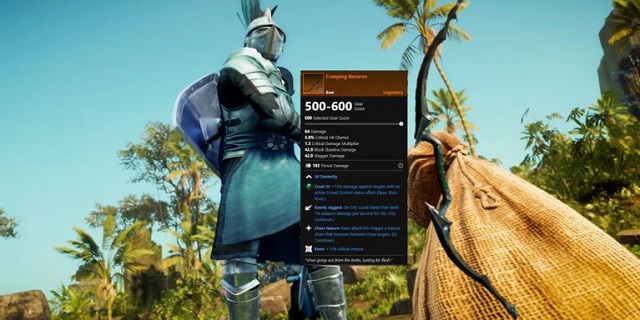 Players who are fond of joining in the wars against different factions expect to become stronger than foes in the fights, which makes them survive longer during wars. In order to improve their ability, it is necessary for them to pay attention to increase Gear Score in New World. Meanwhile, you can buy
New World Gold
to find a good weapon to increase its gear score in the game.

What Is Gear Score?
Gear Score is a numerical value tied to every item in New World, determining the item's base stats and effectiveness in endgame content. As you obtain items during leveling, you'll find that your character's overall Gear Score will increase, allowing you to tackle tougher content.
These Gear Score increases start to slow down once you reach Gear Score 500, which occurs when you reach level 60. The Gear Score cap in New World is 600 as of launch. Increasing this score is required for Legendary variants of Expedition and arena gear to drop.
What is the New World High Watermark System?
The High Watermark (HWM) system is a mechanism that determines the possible Gear Score of individual item drops from endgame content. The system comes into play when you reach character level 60 and is independent for each item slot. That means a Helmet and Gloves have two different Watermarks, and the same goes for every other item slot. It is also weapon-specific, meaning it is individual for Swords, Hatchets, Fire Staves, etc.
The absolute maximum Watermark you can achieve is 590, but this could very well have a higher cap in future updates and content releases. When you reach level 60, you will begin with a 500 HWM on all items. When you find any item from killing mobs or looting chests, you have a small chance to find an item above your current HWM. That new item of higher Gear Score will now be your new Watermark for that item slot.
For example, when you find a Helmet with a 505 Gear Score, your new HWM for helmets is 505. That means you can now find items up to Gear Score 505. However, you also have a small chance to find an item within five levels higher than your current HWM. In this example, it would be 510. Quest rewards and items purchased from the Trading Post (as well as crafted gear) do not affect your HWM.
How to Increase Gear Score in New World
Any item you obtain in New World has a chance to drop at a higher Gear Score than what you currently own. The Gear Score jump you experience will vary on a multitude of factors, ranging from your level to the content you're farming. Gear Score jumps in the early game are fairly large, while Gear Score jumps post level 60 are quite slow. Elite enemies, elite chests found in endgame zones, and Expeditions seem to give the largest Gear Score increases.
Unlike most loot-based games, Gear Score increases are based on your highest Gear Score in that slot, not your highest average Gear Score. Weapons and jewelry behave a little differently, but generally, this is how Gear Score is handled. This mechanic is known by the community as "watermarks."
If you want to improve your ability in the battles, you can try to increase Gear Score as soon as possible. It will play an important role in your character. On the other hand, if you are looking for the suitable weapons or armor, you can
Buy New World Coins
to purchase them from the trading post. You will find cheap prices about New World Coins on 5mmo.com.