In Rainbow Six Siege, if you want to go to victory on every map, the first thing you should do is to fully understand the operator you play with. For example,
special skills, weapons, loadouts and so on
. In this case, you can best make the most of them on each map and win. So today, we'll bring you one of R6 operators,
Kapkan
and show you how to play with him.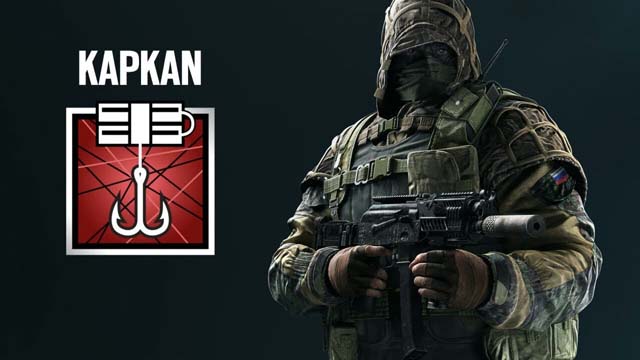 Why you should pick up Kapkan?
With Thermite, Sledge, Ash, maybe a shield operator comes to mind first as the most iconic; definitely not Kapkan, right? He's a sorta middle of the pile pick, and he has a very wide range of people who can pick him and make him work, on various different levels of effectivity of course. Wanna have a try at Kapkan? Come and buy
Cheap R6 Credits
at
5mmo.com
,a reliable,cheap and fast online in-game currency store. Additionally, any customer can enjoy a 3% discount by using the code "
5MMO
" at our website.
Kapkan is a 2 speed, 2 armor defender that excels at controlling sections of the map by placing non-lethal but high damaging traps on mostly any sort of framed entrance, like a door or window. On the lower end of player skill spectrum (say, in a low rank situation or among beginner players) he is often just used to add a layer of protection to the reinforced objective; but as the skill of the Kapkan player increases as well as the other players in the match, his traps become both an intel tool and a punishing tool for reckless moves by attackers (drone-less rushing, last second objective contests, etc.).
Pros
Very good at creating and taking uneven one-on-ones.
Affects the map landscape significantly.
SMG is easy to learn to control.
Cons
Not the best at taking actual one-on-ones with attackers.
Traps can be countered with low effort checks.
Traps take setting up (unlike Gu/Grzmot mid round).
Kapkan's loadouts:
Kapkan Primary weapons are 9×19VSN Submachine Gun and SASG-12 Shotgun. 9×19VSN is a highly regulated submachine gun. Only has 750 firing rate and 34 damage. It is not as fast as the MP5, but more damaging regardless whether or not it's equipped with a Suppressor. It can be considered the in-between of the MP5 and the UMP45 in terms of damage, ammo capacity and rate of fire. On the equipment, I recommend new R6 players still mainly to enhance stability, Vertical Grip plus Compensator. You can still equip with Vertical Grip.
Kapkan's Secondary weapons are PMM Handgun and GSh-18 Handgun which has better recoil and ammo capacity than his other PMM. PMM's single injury data reached 61, but the bomb capacity was only 9. When you are Shooting , you'll feel smooth and have fast changing speed.
R6 operator Kapkan Skills
First, Kapkan is a very efficient trapper. He has five traps, being capable of placing his traps inside doorways and windows, which will be detonated by enemies going through them. Kapkan comes equipped with his homemade EDD MKII Tripwires. You can place them into windows and door frames. When enemies enter trapped entryways, it will explode, projecting shrapnel at anyone located in the device's blast radius. Last, he can take impact grenades, opening him up to be an effective roamer with traps scattered across the R6 maps.
How to play Kapkan?
There is a few ways you can play Kapkan, the most popular being the common sense answer, place your traps around the objective. For example, you can place Kapkan traps at any elevation on doors, from around an operators ankle height, to their head height. This is an easy way to get them shot to be honest, especially if the other team knows you have a Kapkan. The best way I've found is sporadically place them throughout the map in just random odd locations. Placing them all in different spots can be more beneficial, since they are not like Frost traps you do not need to gravitate near your traps at all times. This more often than not nets you at least one kill. Mainly put them in entrances or doors to rooms that you think they will try to find cover in. It's really hit and miss.