Forza Horizon 4, the mostly anticipated racing games has officially kicked off on Xbox One and the Windows 10 on October 2. Along with it, the full explosive car list of more than 450 cars has also been released. Of course,the vast majority of these cars are holdovers from previous games. However, there are 21 new cars added to Forza Horizon 4. Highlights from the 21 new cars include the
McLaren Senna
, which will adorn the box art for Horizon 4, and
the Challenger SRT Demon
. Most of the cars to be added will be classic racing fare, such as the
1931 Bentley 8-Litre, 1964 Ford GT40, and '64 Jaguar E Type Lightweight.
When you start the game, you will only be limited to a few cars, with the main store temporarily locked. However, to unlock new vehicles in Forza Horizon 4 is pretty easy. This article will show you some advice.
There are a few ways to obtain vehicles in Forza Horizon 4. The most common and simple way is to buy vehicles. Once you have completed the first race in Autumn. Open the menu, go to the Cars tab and click " Go to Festival". Then there will be a staggering selection of cars you can purchase. From here you can examine a vehicle's stats, manufacture and designs, so you can choose one car to your taste. Besides, you can also buy vehicles from the Auction, where many real players sell their their custom cars. You can buy the car outright for there is a set price for each car typically. Keep en eye on the auction house because you can grab a very good car for a cheap price. To buy cars,especially good cars, you will need lots of credits, the game currency in Forza Horizon 4, there are a few ways to get money quickly. For example, you can simply earn a decent amount of money by completing activities such as races,stunts and other events.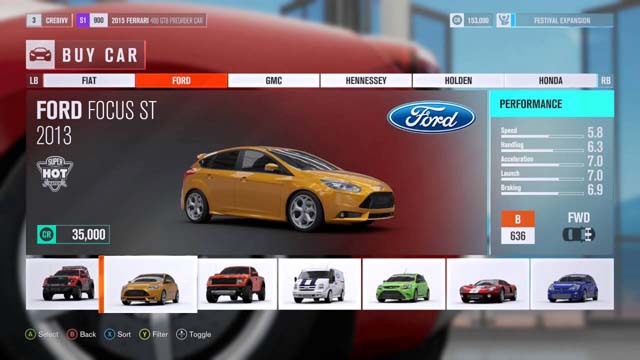 If you want to rush it, head to the wheelspins. Each wheelspin gives players a chance at earning a large sum of credits. Unlocking perks on cars, leveling up My Horizon Life Goals,completing Forza thon daily challenges and Forzathon LIVE event and purchasing the Fairlawn Manor will earn you Wheelspins. Another easy way to get money is visit our website "
5mmo.com
", where you can use the code "5MMO" for a 3% discount and buy the Credits for a cheap price.
If you don't waste your money on getting cars, here is another way. Through the campaign of Forza Horizon 4, Forza Horizon 4 will occasionally just give you a free vehicle. So make sure to check your garage after every season for any new cars. Besides, there are also Barn Finds ,which enable you to get some rare cars. Once again, you can buy
Cheap Forza Horizon 4 Credits
at 5mmo.com to unlock new cars for yourself. You will be given a rough area to search . You explore the zone and pinpoint the location o f the barn yourself, which will reward you a rare and iconic car for free. At present, the specific screenshots of the barn locations and locations have been leaked now. You can check the video above. It is worth mentioning that as Forza Horizon 4 features dynamic weather and seasons which change every 7 real-world days, there are a small handful of Barn Finds that are exclusive to Autumn, Winter, Summer, and Spring. At present, players only have experienced summer and autumn. Additionally, there is one Barn Find that is exclusive to one of the game's Properties, Bamburgh Castle, so you'll have to cough up a cool 10 million Credits to buy and unlock that one.