Where To Farm Adamantite and Wellspring Crystals For Keyblade Upgrades In Kingdom Heart 3
If you wanna get the best gear to win more battles in Kingdom Heart 3, then you must collect a range of synthesis materials in order to make items such as keyblade upgrades and crafting ultima weapon. To upgrade keyblades, you'll need some special materails including Adamantite and Wellspring Crystals. Well, in this guide, we'll show you how to farm each of them fast and easily in the game.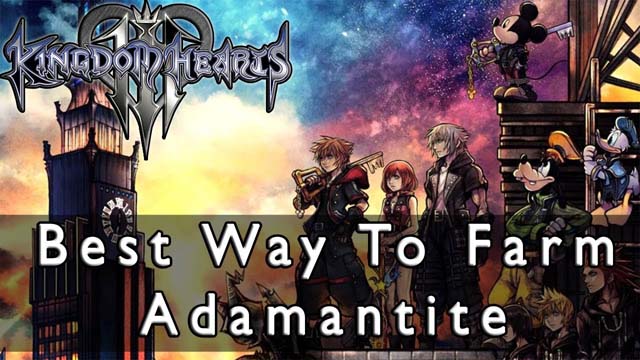 Where to Farm Adamantite in Kingdom Hearts 3?

Adamantite is one of the rare synthesis materials you'll need to strengthen your Keyblades, so here's how you can get Adamantite in Kingdom Hearts 3. There are basically two different ways to get it. One is to farm them shooting the asteroids with your Gummi ship in Misty Stream and Eclipse, the other is to find them in treasure chests in San Fransokyo. The percentages of finding the asteroids are much lower than those of Fluorite and Damascus, so it may be necessary for mining for a long time to find the right amount of Adamantite. If you wait for the unlocking of the Eclipse area, here the asteroids will have a slightly higher chance of giving you Adamantite. You can reach these areas from any world in the Misty Stream.

Comparing with the first method, the second one is easier, in that there will be many chests scattered on the map of San Fransokyo with a fair amount of Adamantite inside. As you progress through the game, you'll eventually be given the opportunity to visit San Fransokyo and remember not to lose any treasure chest. Can be found in treasure chests in San Fransokyo.


If Kingdom Hearts 3 players hope to fully upgrade all of the keyblades in the game, they will have to collect a ton of Adamantite, so they better prepare their Gummi Ship accordingly. Of course, Adamantite isn't the only material Kingdom Hearts 3 players need to collect. Another important ingredient for forging stronger keyblades later in the game are Wellspring Crystals, which can also be farmed in specific areas.
Where to Farm Wellspring Crystal in Kingdom Hearts 3?

Once you're at the tier of upgrade that also needs Adamantite, several late-stage keyblade upgrades will also begin to require Wellspring Crystal, or Wellspring Gem in Japan. Unfortunately, Wellspring Crystal isn't a drop that can be farmed by blasting through space in the Gummi Ship, blowing away meteors. Instead, Wellspring Crystal only appears to spawn in Monstropolis (Monsters, Inc), the Caribbean (Pirates of the Caribbean) and San Fransokyo (Big Hero 6). While it does crop up in the occasional chest, Wellspring Crystal mostly drops from high-level, large heartless that you encounter when defeating them – and the drop isn't guaranteed.

After you've accumulate Adamantite or Wellspring Crystals, and enough head to any of the Moogle Shops and select the Workshop option. Then choose Keyblade Forge, and you'll be able to upgrade your desired Keyblade from there, provided you have the materials to do so. And that's all you need to know about how to get Adamantite and upgrade your keyblades in Kingdom Hearts 3. hopefully, it would be helpful for you. If you haven't buy Kingdom Heart 3 yet, come to 5mmo.com. Our price is much cheaper that other online sellers. Additionally, you can enjoy 3% off by using coupon code "5MMO" when buying. So, don't miss out! For further more on Kingdom Hearts 3, stay tuned for 5mmo.com.