WoW Classic TBC Game Guide: How to Earn More Gold in the World of WOW Classic TBC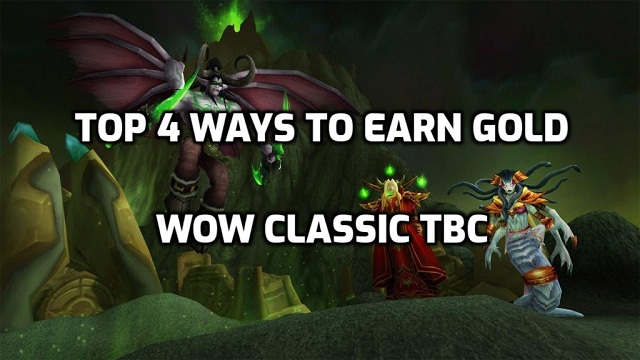 When players are eager to purchase their desired weapons or gear or upgrade them in the game, they will need a lot of gold to pay for the fee or items. And if they expect to become stronger than others, they need to earn a large amount of gold to maintain the cost of upgrading characters in the game. So, you can learn from this article to know how to earn more gold in WOW Classic TBC game. Moreover, if players are lack of necessary materials that used to upgrade your weapons or gear, you can buy
WOW TBC Gold
to collect them from the shop. It will accelerate the process of questing in the game.

How to Earn More Gold Quickly in the Game
You can go around and quest to earn gold in TBC Classic, even if you are level 70. At level 70, you will get a bonus to your quest rewards of 2x the gold they normally provide, since you won't get experience from them anymore. This requires the most amount of effort because you will have to move from zone to zone, performing specific tasks and turning in the resulting quests.
It also rewards one of the fastest ways to accumulate gold if you are actively playing the game and want to knock off some of the easier quests you may have left behind while levelling.
Aside from giving you the option to craft consumables or items for yourself, many crafted items can be sold on the auction house for a profit. There's a lot more involved if you're serious about making gold from crafting—not least the initial expense of leveling the profession—but it can still be lucrative.
Jewelcrafting is a new addition for Burning Crusade Classic, but it's pretty expensive to level. Tailoring is another choice that could see some benefits, not least of all because cloth drops aren't particularly difficult to come by. And, of course, you can make your own bags—or sell those, too. TBC-specific items such as Spellcloth are used in various crafting recipes and generally sell well. Most crafting professions are viable though it's worth having a look at what sells well on your server before committing.
Running dungeons over and over again can also be a fruitful way to secure some gold in TBC Classic. Mainly, you'll want to be burning through instances with a lot of enemies like the Slave Pens or Shadow Labyrinth, so that you can ensure you'll get as much passive gold from enemies as possible.
Introduced in Burning Crusade, dailies are different types of quests that correlate to a different game mechanic (such as professions, dungeons, PvP) that you can take up and complete.
These are indicated in-world with a blue exclamation mark above their head. These can be incredibly resourceful to help you to gain a little bit more extra gold.
On top of the passive gold that each enemy drops, you'll be able to pick up some sellable items and gear that can add to your total income per dungeon. Rare boss drops that other players in your groups don't want to hang on to can be sold for some decent raw gold, while bind-on-equip items can either be sold to vendors or listed on the Auction House for some extra gold.
Players can use these ways to earn more gold in the world of WOW Classic TBC. And you can also choose to
Buy WOW Classic TBC Gold
to unlock the desired weapons or gear for your character, and you can upgrade your character in time. There are cheap prices about WOW Classic TBC Gold on 5mmo.com.