WoW Classic TBC Location Guide: How to Find Ways to Get to Major City of Draenei, The Exodar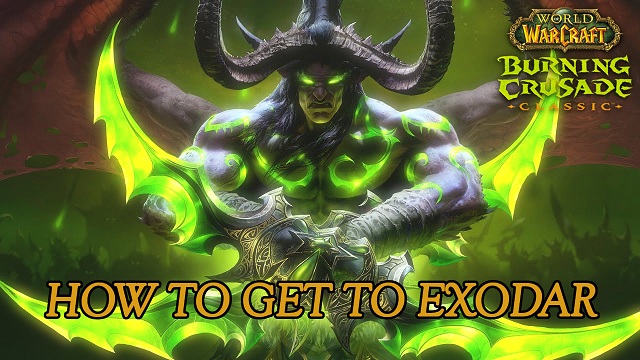 The Burning Crusade has joined in World of Warcraft Classic, and it brings two new capital cities to the game. One of those cities is The Exodar, the major city of the Draenei. This Draenei city and its nearby zones of Azuremyst Isle and Bloodmyst Isle will become popular destinations for players of all Alliance races to visit. But it is not easy to reach there. If you are confused about how to get to the Draenei City In World of Warcraft Classic, you can learn some options from this guide. These options are available for players. Players who want to level up their items can
buy WoW Classic TBC Gold
to pay for the fee of crafting items in the game.

First Way: Taking a Boat from Auberdine
In World of Warcraft Classic, the first way to reach the Exodar is just taking a boat from Auberdine. This small Night Elf village lies along the coast of Darkshore, players can go there on foot or by boat from either Darnassus or Menethil Harbor in the Wetlands. When players have arrived at Auberdine, they should head to its three-pronged dock, and the vessel that leads to The Exodar pulls up to its middle prong.
Second Way: Using Portals to reach the Draenei Capital
Players can use portals to reach the Draenei Capital in World Of Warcraft Classic as well. There is a portal in Shattrath City. When players pass through the Dark Portal, they may come across the major hub in short time, though that only can be allowed by at least Level 58. Moreover, players can take a Mage Portal to Shattrath at any level, and they will be allowed to use the Exodar portal freely from there.
Mages are capable of summoning portals that leads directly to The Exodar at Level 40, but they need travel to the city themselves in order to study the related spell. Players should not depend on each Level 40 Mage that they meet have access to send them to the Draenei Capital, as characters that are over Level 58 have more chances to make the trip come true.
The Way to Leave The Exodar
If you want to leave The Exodar when you have completed mission in this city, you can take the mentioned Auberdine boat at a dock that is located in the south of the city. From there, players can take the boat to Darnassus or Menthil Harbor, or they just wander through Darkshore. Meanwhile, players who are following the Draenei starting area questline will eventually be sent toward the dock under the Exodar.
Most of players are interested in this city, because The Exodar is the only place where the Alliance can find a Jewelcrafting trainer In World of Warcraft Classic. Players who are interested in working on this new profession in The Burning Crusade will be more likely to come to this city. If you are looking for the way to The Exodar, you can learn from this guide.
If you want to buy some useful weapons or gear for your character, you can buy
TBC Classic Gold
to purchase them from the Auction Market. You will find some items will help you a lot in the game. Cheap TBC Classic Gold are sale on 5mmo.com.