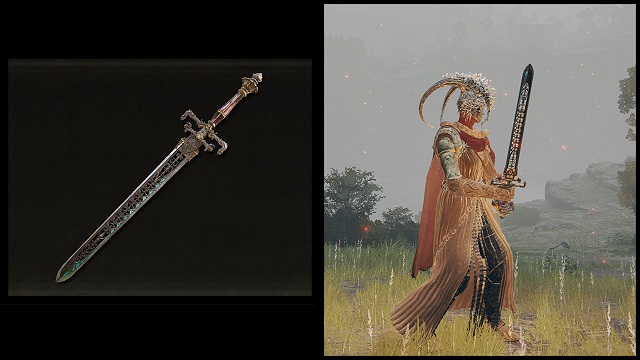 When it comes to Soulborne games, Elden Ring is one of the most popular soulborne games nowadays. And most players are willing to play melee builds in the game, because melee players can make the incredible damage towards enemies with high risk and high reward. So, in order to build the most powerful melee character, you need to choose a good weapon for them. You can get the guidance when you read this article. In order to improve basic stats of characters, you can
Buy Elden Ring Runes
to get enough XP for leveling up characters in Elden Ring.

Sword of Night and Flame
While this weapon was nerfed by the developers at From Software, it still possesses great power for Strength/Dexterity or Intelligence/Faith builds. The reason why the Sword of Night and Flame is so powerful is because of its pre-equipped Ash of War, Night-and-Flame Stance. This ash can decimate enemies around the player in one fell swoop. Players are also receiving the benefit of dealing three types of damage with the straight sword in physical, magic, and fire. The Sword of Night and Flame's power isn't what it once was at the beginning of the game, but it's still worth it for players to try out.
Players can find this straight sword in Carian Manor by going to the Manor Upper Level Site of Grace and dropping down to a room on the ground floor.
Moonveil
Moonveil is a katana, one of the most flexible and dextrous sword types in the game. The Moonveil might not appear to be impressive at first glance, due to its sub-par scaling which only improves slightly with upgrades. The main draw to this weapon is its unique skill and cheaper upgrades.
The Moonveil's most attractive feature is its special skill "Transient Moonlight." With this, the wielder charges a stance and then sends a blade of energy flying with an instant slash, dealing impressive damage. The Moonveil is received after defeating a magma wyrm in Caelid's Gael Tunnel.
Greatsword
If you're using a Strength build, it doesn't get much better than the Greatsword. This Berserk-inspired behemoth of a weapon does fantastic damage and scales excellently with Strength when fully upgraded. It also has one of the most powerful PvP moves in the game with its "crouch poke." By crouching and then instantly light attacking, you'll perform a lightning quick thrust that's difficult for players to dodge. This move is also useful against bosses that rapidly attack and don't have many large windows of vulnerability, as the attack comes out very fast and has a short recovery animation. You can also infuse it with Ashes of War and buff it with spells, which is a nice bonus.
The Greatsword can be found in western Caelid in the back of an abandoned chariot next to the road, near a burning soldier camp. There are several large canine monsters near the chariot, so carefully dispatch of them one by one before grabbing the Greatsword.
Morgott's Cursed Sword
Morgott's Cursed Sword is one of the more advanced weapons in Elden Ring. It requires decent strength and high dexterity to wield, but also demands a hefty arcane score. Players will need 14 strength, 35 dexterity, and 17 arcane to even wield the blade. This would be a problem if the sword was subpar, but its damage and unique weapon skill make it more than worth the cost. Consecutive attacks with this blade cause hemorrhage buildup in enemies and the unique weapon skill, Cursed Blood Slice, make this process even quicker.
Though slower than some other dex weapons, Morgott's Cursed Sword is a titan when it comes to dealing huge burst damage and can make a dex player feel like a real strength build with its punishing blows. As the name suggests, players will need to defeat Morgott to obtain his blade from Enia. Morgott can be found at the end of the Leyndell, Royal Capital legacy dungeon.
These weapons are available for melee class in Elden Ring. If players want to build the best melee class, it is good for you to select these weapons at first. Or you can
Buy Elden Ring Items
to get these weapons with money without grinding in the quests. That saves a lot of time on exploration.