Forza Horizon 4 has been released for nearly a week now, one highlight of the racing game this year is the addition of a a new competitive multiplayer mode known as
Team Adventure
. In this mode, players are required to team up and take on the world in races, games and frantic
Freeroam Rushes
. There are
brand new Leagues
to rise through, unique rewards to be won and prestigious
Grandmaster titles
to aim for.
Generously, Team Adventure is a new team-based version of the Online Adventures from Forza Horizon 3. In this competitive mode, two teams of six will battle it out in up to five events – the first team to rack up three wins are the ultimate victors. Racers will be able to reach new Leagues, attain Grandmaster titles, and win special rewards. To unlock the best cars, buy
Cheap Forza Horizon 4 Credits
at
5mmo.com
, where you can use the code "
5MMO
" for a 3% discount and buy the credits for a cheap price.You can check out the video below to see some gameplay of Team Adventure while listening to what Playground Games' Creative Director Ralph Fulton has to say about the game mode.
The inaugural four-week Team Adventure series begins on Oct. 2 alongside the launch of "Forza Horizon 4," coming to Xbox One and Windows 10. Like the other Xbox One exclusives, it will be hitting Xbox Game Pass on the same day as well.
In Forza Horizon series, Playground Games has created a gaming environment that favors online play, but which allows players to inhabit this multiplayer world without being forced to interact with other people. Players can enjoy the sense of being in a common place while also being in their own worlds.
Well, if you tied of this feeling and want to try play against others, then join the "Team Adventure", a series of a handful of races between Team Red and Team Blue, made up of random players, or a group of friends.
Since Forza Horizon 4 introduces dynamic weather and seasons. In Team Adventure, the entire world is also based on week-long seasons (summer, winter, etc.) each with their own special events and challenges. The difference of seasons is mostly reflected on the visual level. For example,a little more mud and water in autumn and spring while snow and ice appear in winter. Driving conditions changes with the season, especially in winter. Team Adventure races cover the same diversity of race styles as the single-player game, including road races, cross-country and dirt racing. Some team races step outside the current season, which add a little to the variety on offer.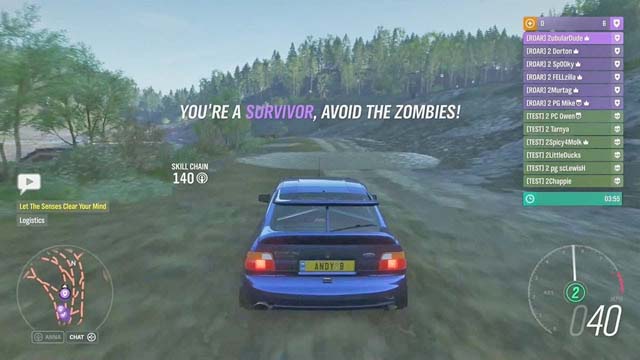 In addition to a standard and Freeroam rush races, Playground demos the new
Survival mode
, in which the two teams take on the roles of survivors and zombies. If a zombie car crashes into a survivor, they infect them, but survivors can heal themselves if they crash into a teammate.
You gain points by winning races or just by driving faster than players on the other side. It's designed to create on-the-fly rivalries, much like in shooting games. However, in this game, you have to learn to cooperate with your teammates to compete against your opponents. Another problem is ally drop-off. Playground makes it hard to quit these adventures midway through, there are still a lot of players leaving when the going got tough.