Here's A First Peek at The Latest Details of The New Fallout 76 PVP Survival Mode
A couple of month ago, Bethesda has announced to us that a new PvP mode, called Survival, will be coming this March in Fallout 76. The announcement didn't go down well with everyone, with some players asking for more PvE content, especially for Fallout 76' s end-game. Luckily, according to Bethesda' s community manager, there actually will be new Fallout 76 PvE content launching alongside Survival mode. Here are more details of the new Survival Mode and the new Fallout 76 PvE content.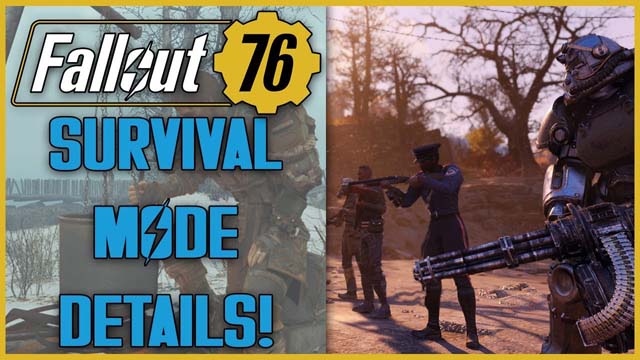 Details of The New Survival Mode in Fallout 76

Early before, Betheda has announced to us the upcoming of the new PvP mode, Survival Mode. Survival is a mode where every other player, except those in your team or helping in an event zone, are marked as hostile. The existing PvP system, which requires both parties to opt-in, does not exist in Survival; instead, players are able to attack each other on sight. Survival will include level scaling, so newer characters will, in theory, have a fighting chance against high-level enemies. Players can gain access to the mode from the main menu. The new Survival Mode has "the same quests, events, and story that you're used to in the existing mode: Adventure Mode." additionally, players can use existing characters in the Survival mode, where they will share their inventory and status across both survival mode and adventure.

However, there are some difference between Survival mode and Adventure mode. For example, when players die, they'll have to respawn at either their CAMP or Vault 76, instead of near their body to rush back into the fight and reclaim your junk. Caps rewards will be doubled in PVP as well, encouraging bounty hunters. Bethesda notes that "these changes aren't set in stone, and we'll be looking to make adjustments based on playtesting and your feedback during the Survival Beta." For more Cheap Fallout 76 Bottle Caps, come to 5mmo.com. We offer the cheapest price online and fast delivery. Moreover, every customer can enjoy up to 3% discount by using the code "5MMO" at our website.
Details of The New Fallout 76 PvE Content

Given that there is only one small faction that exists outside of the main quest, there isn't a tremendous amount of story content left once you finish the main quest-line. This leaves players with the choice of exploring the world or repeating the final mission to farm resources; both things which don't necessarily appeal to everyone. Due to fans' high demand of PvE mode in the game, recently Bethesda announced that there will also be planned PvE content, along with the upcoming PvP Survival mode in this March.

"We're also seeing the thoughts being shared by those of you who'd like to see more PVE content, and while I can't spoil any details just yet, I will say that Survival mode won't be the only new content coming to Fallout 76 in March, so stay tuned!"

From the statement above, we can make sure that we will see more PvE content in this March and let's wait it.