Player progression is based around
XP
, as well as an in-game currency called
Renown
. Renown, just like the in-game currency R6 Credits can be used to upgrade the various Operator classes, as well as attachments and skins featured in the game. You can earn Renown by completing certain challenges through the game. In this article will cover some useful ways for you to earn more Renown.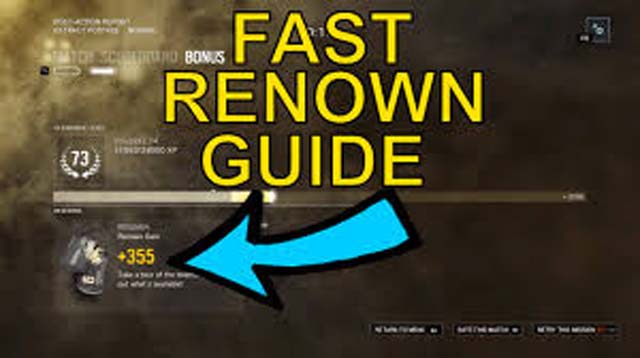 As players unlock Operators, the Renown price for new Operators from that same Counter Terrorist Unit (CTU) will increase by 500 Renown with each character unlock. Unlocking Operators, weapons, and skins can get pricey very quickly. So, it is very necessary to earn enough Renown.
Watch the tutorial videos
The easiest way to bring in a quick bundle of Renown is to go through the tutorial videos that can be found under the 'Tutorial' option within that 'Play' menu. After watching each of these videos, you'll be rewarded with 200 Renown. Not bad for what could possibly be a couple seconds of your time. Do this for all three of the videos available and you'll be rewarded with an extra 200 Renown for watching all of the tutorial material available. If you hurry to jump in, you can just skip out of them by pressing circle or B and confirm you want to skip the video.
Play through the situations
Situations are short, single-player tutorial game-modes which teach you the basics. They reward up to 600 Renown points each for completing the three objectives each has, plus a bit more for completion. Playing on harder difficulties gets you more experience and Renown upon competition. You do not have to do these objectives in one run or at the same time. By the end of it, you should be able to rack up more than 6,000 Renown points. These challenges can only be done once, but you can play through the Situations as many times as you like, though you will not get much from them after that. If you want to relieve yourself from these tedious process, come to
5mmo.com
, a cheap in-game online currency store.
Purchase Booster and use it wisely
Players can earn Renown faster by buying Boosters that temporarily increase the rate of Renown earned over a short period of time. If you are already inclined to complete objectives and challenges for increased XP rewards, then Boosters are a good way to maximize your overall Renown earnings as well. Boosters can increase the amount of Renown you're earning for your playtime by 50%.
These are definitely going to help you see a big increase in the amount of that clout you're bringing in, but clever players will use these tactfully. You can buy
Cheap R6 Credits
at our website: 5mmo.com, where you can use the code "
5MMO
" for a 3% discount. For example, if you and a group of your friends all activate boosters at the same time and play as part of a squad, you'll receive an even greater boost on the Renown you earn in-game. For each teammate in your squad that has a booster active, you will earn an additional 10%. If all of your team have boosters active you'll gain an additional 5% boost taking the total up to a massive 95% extra boost to your Renown earned. The more of your friends who activate the booster the higher the % increase you'll see. For more easy ways, you can check the video above.