How to Get The Best Sniper Rifle and The Best Sniper Scope in Ghost Recon Wildlands
Ghost Recon Wildlands
opens up right off the bat, allowing you to go anywhere on its expansive map immediately after creating your character. But you're limited to what guns you can include in your loadout, and though you can find new ones from enemy drops, they don't stay with you once you abandon them. In order to add weapons to your permanent selection, you'll have to find weapon cases scattered across the map. With a bit of guidance, this guide covers the ways of finding
the best sniper rifle and the best sniper scope
.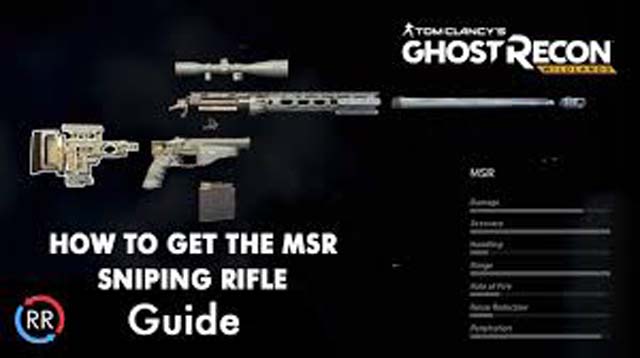 The Best Sniper Rifle, The MSR Sniper Rifle
MSR is recommended as the best sniper rifle and the go-to for most of the players in Ghost Recon Wildlands. In order to find and obtain the MSR Sniper Rifle, you're going to need to head to the Montuyoc province. The location of the Weapon Case containing this weapon is found near the western border, along a set of mountains in the area. The case itself is actually hidden within a mine shaft, so you'll need to approach from the east, as this will give you cover to look down on the base from the top of a hill. There are roughly four soldiers patrolling the area outside the mine entrance. Besides, there are at least two of the soldiers inside the mine area will patrol outside, so make your shot counts. Once you clear those soldiers, head inside the mine and scout ahead using your drone. You'll want to sneak through this area, as it is crawling with enemies. After clearing the enemies in your way, you will find the Weapon Case at the far end in the mine. To unlock more powerful weapons, buy
Cheap Ghost Recon Credits
from our website:
5mmo.com
, where you can use the code "
5MMO
" for a 3% discount and buy the credits at the cheapest price online.
The Best Sniper Scope, The T5Xi Tactical Scope
Aside from the best sniper rifle, you also need a best sniper scope to help you get the upper hand in the fight. Herein, We recommend the T5Xi Tactical scope as the best sniper rifle scope, since it has the highest zoom within the game, offering a total magnification of up to 6 times normal weapon zoom. The T5Xi Tactical Sniper Scope can only be found within the Koani Province, up by the Huertas Mine. To get there easily, first you need to get yourself a helicopter. Once you have the helicopter, locate the Huertas Mine in the province of Koani. With the area marked on your Tacmap, take off and begin making your way there. You're going to pass over a lot of enemies along the way, so stay high and keep an eye out on your map. You will set down the rise just west of the Huertas Mine. You' ll need to approach from this direction, since there aren' t any active enemies down at the mine. Some Sicario or unaided patrols might come along the road to the north, so keep an eye out. You should also be sure to check the area for any enemies with your drone, just to be safe. Once you are sure the area is clear, head down the hills and into the mine area. The accessory box can be found along the northwest side of the compound. To unlock more powerful weapons, come to
5mmo.com
.