In the latest season of FIFA Mobile,
Team Chemistry
is way more important then your ovrerall team rating. Team chemistry helps you to create better chances .For example,You can better have a 82 ovr team with 120 team chemistry than a 85 ovr team with 50 team chemistry. Players with similar Clubs, Leagues, or Countries give Chemistry Points to all linked players.
The total Team Chemistry impacts your teams performance in VS Attack and Head to Head
. In this article, I'll explain everyone who doesn't know how the team chemistry works how it works and how to maximize your team chemistry by some easy but useful ways.
New FIFA Mobile Chemistry System Explained
In this game,players give chemistry to other players. It is not like the console game that it depends on their own situation. With your attention, Team Chemistry unlock at level 10 or when you complete Mobile Master quest part 6.Team Chemistry only works with 80+ Players. That means if you link a 79 player to a 80 player it doesn't work. An indicator next to your team OVR shows how much total Chemistry you have from all players in your Starting lineup. Chemistry's maximum point is 120.
How can I calculate the chemistry of each player?
If you look at the details of a player you can see some stats in right corner. You see stats like this.
So now you know how you can see what a player gives to other players linked to him on his details.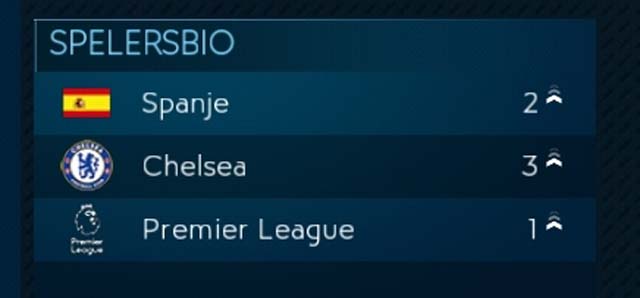 Here you can see that the players gives +2 chemistry to his linked spanish players, +3 to his linked chelsea players en +1 to his linked PL players.
If you look at your starting eleven with the team chemistry switched on you see this.So as an example we recalculate our goalkeepers. His chemistry is (9/12). He get that chemistry of his linked players. He is only linked with 2 players. The 2 centerbacks. Centerback left gives 4 chemistry to all the linked chelsea players, 1 to PL players en 1 for players from spain. That means that Kepa(Keeper) get this chem.4 because he is a player of chelsea, 1 because he is a PL player and 1 because he is a spanish player. That means he get 6 chemistry from the left centerback.The right centerback gives 2 chemistry to Kepa because he is a PL player and 1 because he is spanish so that is 3 chemistry. 6+3 chemistry is 9 chemistry.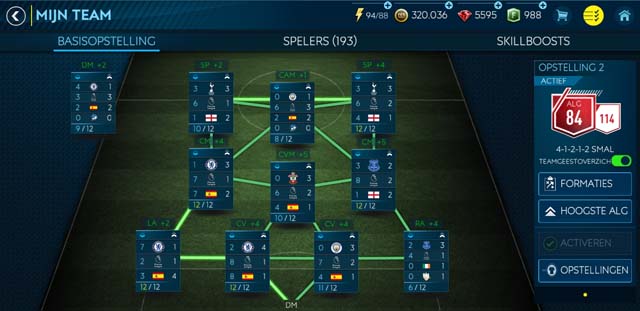 How to Maximize your Team Chemistry?
Don't be too thematic
Building a squad only from 1 club or 1 country certainly makes it easy to maximize team chemistry. But your squad will lose its flexibility and will be difficult for new players to enter.
Moreover it is now just the beginning of the season and there will be many events which of course will feature new and better players (TOTY, TOTS, Carniball, Easter, etc). so if you wanna get player to add your team chemistry, then
5mmo.com
must be your first choice. We are cheapest online FIFA Mobile Coin store. Moreover, you can enjoy up to a 3% discount at our website by using the code "
5MMO
" when you buy
Cheap FIFA Mobile Coins
.
If possible, choose cards from the events rather than the base one
Players from the events such as Campaign, Scouting or TOTW can receive up to a maximum of 15 chemistry points. While the basic card is only 12. That being said, you have more surplus chemistry points (from a maximum limit of 120) if the majority of your players are from events, so in the future it will more easier to include the players you want even if it doesn't match to the chemistry squad.