As we know, to celebrate the holiday season, the new year, a couple of weeks ago, Epic held a The 14 Days of Fortnite holiday event to five fans the mood. Each day, Fortnite was faced with new challenges. By finishing the challenges, fans can receive a festive rewards. However, fans can't receive the Equalizer Glider, the reward of Day 14. as with it, Epic explained that they had announced the wrong time of Day 14 reward . As an compensation for this, Epic decide to
bring back The 14 Days of Fortnite event
and now the 14 Days of Fortnite event with a ton of 14 Days of Fortnite rewards is now live on various Fortnite platforms
for a week
. So, if you have missed out those rewards last time, you have to act fast to get all those rewards now. Moreover, to save you time, in the video below, you can find guides to all the challenges.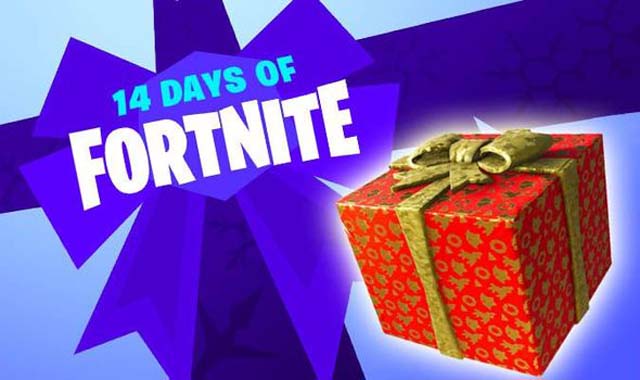 14 Days of Fortnite Challenge List
Good luck and happy holidays all over again!
Day 1:Start or join a Fortnite Creative server (0/1)
Day 2:Visit giant candy canes (0/2)
Day 3:Play matches with a friend (0/3
Day 4:Hit a player with a snowball in different matches (0/4)
Day 5:Fly through golden rings in an X-4 Stormwing Plane (0/5)
Day 6:Search waterside goose nests (0/6)
Day 7:Use Boogie Bombs or Presents! (0/7)
Day 8:Damage opponents with different weapons (0/8)
Day 9:Dance in front of different Holiday Trees (0/9)
Day 10:Land tricks in a vehicle at different named locations (0/10)
Day 11:Thank the Bus Driver in different matches (0/11)
Day 12:Destroy snowflake decorations (0/12)
Day 13:Place Devices on a Creative Island (0/13)
Day 14:Search chests (0/14)
With all the challenges now live, you can jump in and start earning any of the free rewards which you haven't already. You have to act fast, because it will only last for one week. So, if you wanna grab yourself some items like a pickaxe, glider, weapon wrap and pet, don't miss out! If you want to buy
Cheap Fortnite Top Up V-Bucks
, come to
5mmo.com
. We are the cheapest online in-game currency online store. Additionally, you can enjoy a 3% discount by using the code "
5MMO
" at our website.
14 Days of Event Rewards
Moreover, There are a lot of rewards you can get from this limited time event. For the most part, these are unique cosmetic rewards you won't find anywhere else at all. One such reward, for example, is the Equalizer Glider that you can see in the screenshot above. Here is the full list of 14 Days of Fortnite rewards:
Day 1 Challenge: GG Ornament Spray
Day 2 Challenge: Festive Firefight Loading Screen
Day 3: Snowball Toy
Day 4: Snowman
Day 5: Combat Wreath Back Bling
Day 6: Crackshot Special Loading Screen
Day 7: Merry Munchkin Pet
Day 8: Take the Elf Emote
Day 9: Snow Globe
Day 10: Holiday Stormwing Spray
Day 11: Frozen Axe Pickaxe
Day 12: Snowflake
Day 13: Disco Wrap Skin
Day 14: Equalizer Glider