Driving anywhere in Forza Horizon 4 must bring you a huge amount of fun, since the brilliant open world of Britain definitely looks more realistic and beautiful with the change of seasons and weather. However,sometimes you might want to get somewhere in an instant and then it is necessary to master the art of the game's
Fast Travel
mechanic.
Having a hard time? No worries, this article will get you covered. Below, there's a quick guide on how to use Fast Travel in Foeza Horizon 4.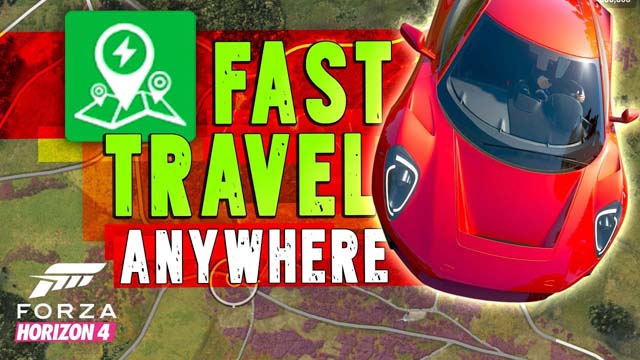 Fast travel in forza horizon 4 is open right from the start and players can easily fast travel between the
Horizon Festiva
l and the houses they own all around the map. However, taking advantage of fast travel options in Forza Horizon is not free and it costs Credits, the main currency in the game. There's a ton of ways to earn Credits to in Forza Horizon 4. Wheelspins is the most recommended way here. Eash wheelspin gives players a chance at earning a large sum of credits. leveling up My Horizon Life Goals,completing Forza thon daily challenges and Forzathon LIVE event and purchasing the Fairlawn Manor will earn you Wheelspins. An easier way to earn Credits is to visit
5mmo.com
, where you can use the code "
5MMO
" for a 3% discount and buy the Credits at the cheapest price online. Runing around a lot surely costs you lots of money. That's where
Fast Travel Boards
come into play.
Essentially, Fast Travel Boards are road signs located throughout the Forza Horizon 4 map which players can find and destroy. After destroying a Fast Travel Board, the CR cost to use Fast Travel will be reduced. What's more, if you find and destroy every single Fast Travel Board in the game, you'll be able to use the Fast Travel mechanic virtually for free. The following video shows you the locations of all the 50 fast travel boards in Forza Horizon 4.
If you haven't unlock your own houses, then get your hands on it quickly. There are 12 different houses that players can find on the map in Forza Horizon 4. Some houses can be purchased, while others are unlockable. If you need to buy
Cheap Forza Horizon 4 Credits
, come to 5mmo.com. Collecting these houses offers players garage space for storing vehicles. Additionally, a few of these houses offer player perks such as Skill Song, Drone Mode, and Fast Travel Anywhere. Besides, unlocking a house opens up other fun features including customization options for your cars and characters in Forza Horizon 4.
However, to fast travel absolutely anywhere, there's some more work to do. In order to unlock the ability to fast travel anywhere in Forza Horizon 4 you need to purchase a rather expensive manor house that's to the south of Edinburgh. Fairlawn Manor will set you back 2,000,000 credits, meaning you probably aren't going to be buying it until you've made a decent dent into the game. It's worth doing though, as it enables you to fast travel absolutely anywhere on the map, which is very handy. Especially once you've found all the fast travel boards so it becomes free to use. Buying Fairlawn Manor also awards you with 10 Super Wheelspins, which is very generous, as well as a Silver Top Hat for those who like to dress their avatar up in style.
By keeping all of the information above in mind, you should have no trouble using Fast Travel in Forza Horizon 4. Well, get on your car and experience Fast Travel in the open world right now.