Hunting Party, Calamity, Dier Challenges and Cross-play Functionality Come to Fortnite Season 6.
Fortnite Season 6 has already been underway now and it brought with it a new season-long challenges called
Hunting Party
for players to complete. Just like any other challenges in Fortnite seasons, in Hunting Party,players are required to complete all the ten weekly Battle Pass challenges, than you'll get to see a postcard with a special image that hints at a hidden Battle Pass location. With this extra
Battle Pass star
, you can unlock stuff at a faster rate. Once players finish seven full weeks of challenges, they will able to unlock a hidden legendary skin which is available until week seven of the season. At present, we don't know what
the mysterious skin
might look like.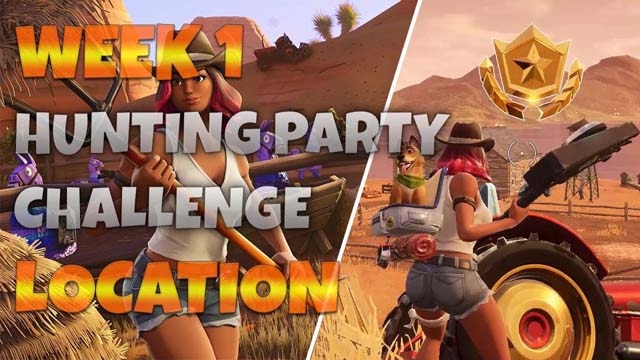 Since Fortnite Season 6 have already released week 1 challenges now. If you buy the Season 6 Battle Pass, you will be able to complete weekly challenges. After Completing an entire sheet of challenges for that week, and you'll earn yourself a special postcard / loading screen image which hint at the location of a secret Battle Star. For your attention, you can buy
Cheap Fortnite Items
at 5mmo.com, where you can use the code "5MMO" for a 3% discount. At present, week 1 star location has been released out now. There is a farm just east of Paradise Palms in the desert biome. The star is located on the red tractor, on the hill just southwest of the farm. For more specific details, check the video below.
Aside from the Hunting Party, there are other long-term challenged unlocked this year including
Calamity and Dire Challenges
where the Dire challenges can only be started once you reach tier 100 in Battle Pass. Both challenges task player with earning a certain amount of experience to earn five tiers of rewards, where each tier of reward unlocks a new customization option for the challenges' respective skins. Once you have finished five of the eight challenges on Calamity, you will earn a
Reckoning
, a special harvesting tool and doing the same on Dire will earn you a special samurai sword back bling . if you want to unlock more Fortnite weapons, come to
5mmo.com
, where you can get various cheap Fortnite items.
Another big news of Fornite is that Sony finally released a beta for cross-platform play on September 28, which is a reversal of its longstanding policy of keeping PlayStation fans segregated from the rest of the industry.PlayStation president and global CEO John Kodera wrote on the PlayStation Blog.
"The first step will be an open beta beginning today for Fortnite that will allow for cross platform gameplay, progression and commerce across PlayStation 4, Android, iOS, Nintendo Switch, Xbox One, Microsoft Windows, and Mac operating systems," "We see the beta as an opportunity to conduct thorough testing that ensures cross-platform play is best on PlayStation, while being mindful about the user experience from both a technical and social perspective."
It took long time for Sony to add this new feature. Just like the PlayStation boss said,"Now, enabling cross-play isn't just about flipping a switch and 'there you go'. It's a very multi-dimensional kind of attribute or feature." Luckily, the cross-play feature has been successful so far. Even though it's still in a beta phase, it has worked perfectly. However, Sony will keep an eye on eventual issues and try to fix them.