Early access, Seasonal Content, The Prologue, Car List, Seasonal Events And Other Details You Need Know in Forza Horizon 4
Forza Horizon 4 :Ultimate Edition
kicked off on September 28. By pre-ordering the Ultimate Edition, you can experience the British automotive culture right now. Since its release, gamer are loving the open-world racing experience which changes with four seasons. Undoubtedly, the all-new Forza Horizon 4 brings us a lot of surprises this year, such as the
dynamic weather and season
s, an long
car list of 450 cars
, enough racing and so on, all of which surely bring players' racing experience to new heights.
Early access
After the above simple introduction, are you already palpitating with excitement now? At present, you can already download Forza Horizon 4 demo over Xbox One and PC. The new demo showcases the new Seasons feature that changes the map with each one and adds different challenges to compete. Besides, you can also get an early access to Forza Horizon 4: Ultimate Edition. Early access is available on both Xbox One and Windows 10 PC versions and gives you full access to the game, as well as other goodies that can only be found in the Ultimate Edition. You can buy
Cheap Forza Horizon 4 Credits
at 5mmo.com, where you can use the code "5MMO" for a 3% discount. This includes the Best of Bond Car Pack, with features 10 iconic cars inspired by more than 50 years of Jame Bond films, the Formula Drift Car Pack, Car Pass, VIP membership, and two game expansions when they become available.
Sesonal content
The great highlight of Forza Horizon 4 is the dynamic weather and season. Seasons will transition for everyone each week on Thursday at at 7:30am Pacific / 10:30am Eastern / 3:30pm British time. After a countdown and cutscene transition, the Horizon map will be updated with the new seasonal weather effects, new seasonal events (including seasonal Barn Finds), new weekly Forzathon challenges and rewards, and new Forzathon Shop cars/clothes/horns etc. For more specific details, Check the image below.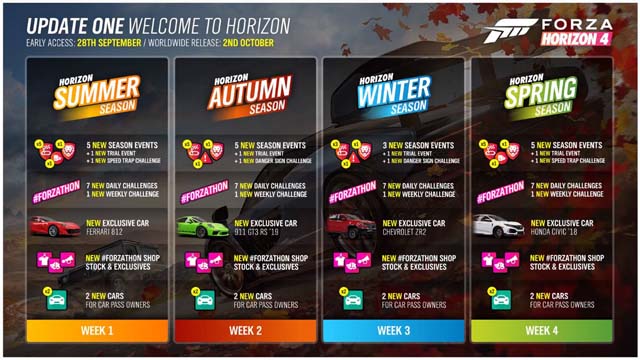 The prologue
For players who start the game first time, you will experience a nearly four hours' prologue before you are synchronized with the current world season.The first ten minutes is like a e3 demo,then you arrive at the Festival and start your first summer. A quick tour of all four seasons.Then you enter the "Horizon Life Prologue" where you get to spend time in a full Horizon year. At about 1 hour, once you finish your first prologue Autumn event, the Drivatars in your freeroam world are replaced with real players and you have online modes available, or you can also play Sole i f you better like that. At around 4-5 hours, depending on how you play, you qualify for the Horizon Roster, your second summer, and earn your first Wristband. You enter a fully synchronized world where each season lasts a week. How fast you get there depends on how much "influence" you earn. Come to
5mmo.com
. The cheapest online game currency store. You can earn big chunks of influence by taking part in racing or earn smaller influence by jumping off cliffs, roaming around and so on.
Car list
In a couple of days ago, Turn 10 Studion post on the official Forza Motorsport site a car list featuring more than 450 cars, not including secret cars in game. The vast majority of these cars are holdovers from previous games. However, there are 21 new cars added to Forza Horizon 4.Highlights from the 21 new cars include the McLaren Senna, which will adorn the box art for Horizon 4, and the Challenger SRT Demon.Most of the cars to be added will be classic racing fare, such as the 1931 Bentley 8-Litre, 1964 Ford GT40, and '64 Jaguar E Type Lightweight. For more specific car details, check the video above.