New World Weapon Guide: How to Find the Best Weapon Combos For Character's Attributes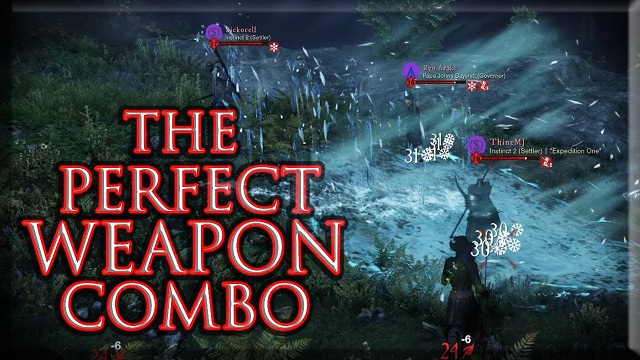 As one of the most popular MMORPGs, New World has made a lot of changes for players. With the evolvtion of New World, the choices of weapons also changes a lot. Characters can carry any two weapons in their inventory at a time, so there are a variety of discussion that which combinations are the best in the game. There are no restrictions for what kinds of weapons and gear players can carry because New World has no classes types. Players are willing to try a lot of interesting combinations of weapons for their character in order to find the best. And these weapons are crafted by players or rewarded by the quests. Moreover, players can buy
New World Gold
to improve the levels of character in the game in order to control more high level weapons.
Weapon combos is about which kinds of weapons will enlarge with whatever attributes are the character's strongest. There are some options of the best weapon combos in New World.

Musket, Rapier (Ranged DPS)
Players have discovered the musket and rapier combination for a long time in New World. They find that it is easy to control these weapons in the game. Although there are some minor changes in recent patches, they keep normally the same right down to the Talent Trees. Players should pay attention to the Attributes that determine a character's skill with these weapons, which are based on both Dexterity as a primary score and Intelligence as a secondary one.
Due to its straightforward feature, most players will try to use this combination. No matter what Talent Tree is used for either of these weapons, each character is a variation on damage per second, or DPS rating, it is easy for players to try other different builds.
Warhammer, Sword And Shield (Melee DPS/Tank)
Players who emphasize Strength as an Attribute instead of Intelligence can try these powerful weapons. This build abandons ranged damage abilities, while this kind of character is associated with PvP and party-based content like Expeditions and Corrupted Invasions.
Just like many of the fantastic combinations, both of these weapons share the same main Attribute scores. The Warhammer is more efficient than others, depending only on Strength and no other scores. Sword and shield proficiency also depends on Dexterity as a secondary Attribute score.
Life Staff, Void Gauntlet (Healing/Ranged DPS)
Life Staff is the only healing weapon in New World, and its is also the sole beneficiary of the Focus Attribute score. That is why the combination with the Life Staff is considered as one of the most difficult to determine. But, a high Focus skill also shows improved mana recovery and spellcasting rates, so it is a good idea to equip another magical item as a secondary weapon.
The Void Gauntlet, which is considered as a new passport to the New World armory can combine with Life Staff. It's the first weapon that scales with both Intelligence and Focus in New World. The Ice Gaunlet is also a right choice but that weapon is more about crowd control (CC) instead of DPS and only focuses Intelligence as its main Attribute, so the choice relies wholely on the character's unique build.
Players who want to find the best weapons combos should have access to equip these weapons first, you can
BUY New World Coins
to purchase suitable weapons from the trading post. You can find the best weapons combos for your character. You can find cheap prices about New World Coins on 5mmo.com.