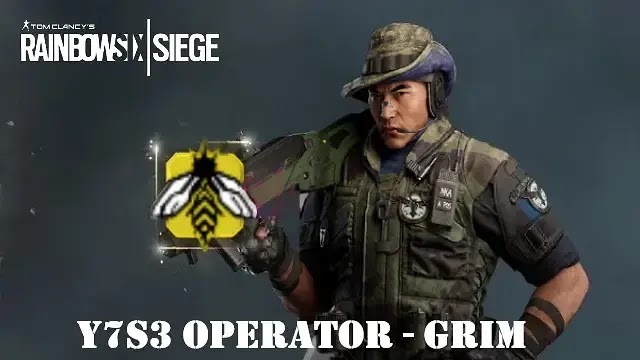 Fans of Rainbow Six Siege are excited to heard from the news that there will be a new operator introduced in the game's roster. Many players are wondering the information of this operator, we will tell you the information we have known in this article. Players can use
Cheap R6 Credits
to unlock more operators and find your favorite to play in the matches.

What's the New Operator in Rainbow Six Siege?
Grim is a Singaporean operator who seems to be specialized in insects. It's difficult to predict how the gadget is going to work, but it seems like it will release some kind of robotic bees. It's still unclear what these insects will do, but it could be anything from poisoning the defender to stunning it or even detecting it.
At the end of Rainbow Six Siege's promotional video of Grim, we can see the operator in front of Team Nighthaven's logo, which leads us to think that he will be part of Kali's team.
The Ability of New Operator Grim in Rainbow Six Siege
Grim's unique piece of kit is the Kawan Hive Launcher – an over-the-shoulder launcher that fires an electronic cannister. When the cannister hits a surface, it opens up to release robotic "bees" that track any enemies in their vicinity. For Grim and his allies, enemies revealed by this ability are tracked and visible through walls in real-time until they move out of the cannister's range – though several robots will cling to them for a short while after.
Grim's area-wide tracking ability makes him a "fantastic, aggressive intel gatherer" according to Ubisoft. The studio added that Grim synergises particularly well with attackers like Nomad and Gridlock who can help secure areas; as well as operators like Jackal that can assist in tracking enemy operators.
Operation Brutal Swarm Release Date
The Rainbow Six Siege Operation Brutal Swarm release date and the release of all the Y7S3 content discussed below is September 6, 2022. This new season of content was fully announced on August 21, following a number of teasers in the days leading up to the aforementioned announcement.
This is the third season of content in Rainbow Six Siege's plans for Year 7, which should be followed by a Colombian operator and the eventual release of the new competitive map initially planned for the Y7S3 update.
In addition to a new operator, the new season will also bring balancing changes to Finka and all LMGs in the game. Since Finka received grenades as a secondary gadget, it didn't take long that the operator to turn into a new attacking meta in the game. This balance change was supposed to arrive in Y7S2, but Ubisoft postponed it to Y7S3.
Originally, Rainbow Six Siege was supposed to receive a new map in Operation Brutal Swarm as well, but it was delayed to the final season of Year 7. Instead, the developers will add a new map to the Ranked/Unranked map list this season. Ranked 2.0 and Reputation System were also pushed back to Year 7 Season 4.
When to Play Grim in Rainbow Six Siege
Grim will be playable with the release of Operation Brutal Swarm. However, all players will be able to try it out when the Test Server opens, which should be the day after the Berlin Major concludes.
Usually, the upcoming operations start two weeks after the conclusion of the Major, so we expect Operation Brutal Swarm to be launch someday throughout the first week of September.
Players will have access to play Grim operator in the test servers in advance. And there will be other changes in the coming update of Rainbow Six Siege. You can
Buy Rainbow Six Credits
to unlock more good items for your characters and lead your team win the matches in battle.