The Summit Striker Starter Pack Is Available Now And Here's First Peek at The Fortnite Season 6 Week 7 Challenges
As always, Fortnite released another starter pack for players to spend money again. After the Ace atsrter pack,
The Summit Striker starter pack
is now available from Fortnite's in-game store on all platforms for players to purchase. It can only be purchased once per account, and it costs $5 . This new starter pack comes with two new cosmetic items:
the Summit Striker skin and the Top Notch back bling
. You can see how both look in the image below. In addition to the cosmetics,
the Summit Striker starter pack comes with 600 V-Bucks
, which you can use toward cosmetics and other in-game purchases. Normally, 1,000 V-Bucks costs you $10 in the item shop, which makes this starter pack a particularly good value, even if there weren' t any bonuses attached.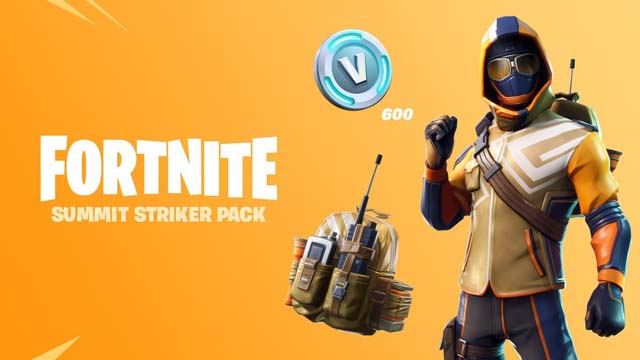 To get this brand-new outfit, players have to log in their Fortnite accounts and go to the Store tab. There they' ll find the new Starter Pack at the far left and will be able to purchase it if they set up a payment method.
Epic recently rolled out Fortnite's 6.22 update, featuring a variety of new content on the Battle Royale and Save the World. They include some new limited-time modes, The Team Terror and Blitz. Besides, a weapon, The Heavy Assault Rifle was also added to the game. At the moment, Fortnite downtime for update 6.22 has started now, so players can dive into the Patch Notes to see what's coming. By the way, you can buy various
Cheap Fortnite Items
from our website:
5mmo.com
, a cheap and safe online in-game currency store. You can gain a 3% discount at our website by using the code "
5MMO
".
In addition, Fortnite Season 6 Week 7 challenges have been leaked out now. You can check the following list for what's in store this week.
Free Challenges
Search seven ammo boxes in a single match (0/7)
You' ll need to have a rumamge through seven ammo boxes for this challenge.
Deal Headshot Damage to opponents (0/500)
Deal 500 Headshot damage to opponents.
Stage 1: Deal damage to opponents in a single match(0/300)
Deal 300 damage to opponents in one match for the first stage of this challenge.
Battle Pass Challenges
Stage 1: Destroy trees (0/50)
Destroy 50 trees for the first part of this challenge.
Skydive through floating rings (0/20)
You' ll need to skydive through floating rings 20 times to complete this challenge.
Stage 1: Consume five apples (HARD) (0/5)
For the first stage of this challenge, you' ll need to eat five apples.
Eliminate opponents in Pleasant Park (HARD) (0/3)
Defeat three opponents in the Pleasant Park area.
First off, we can see the return of an old, boring favorite: skydive through floating rings, which has been yawning its way through several seasons so far. Most of those challenges are pretty straightforward and simple to complete. I believe destroying trees is easy for you, although the number seems a bit annoying. Searching 7 ammo boxes is easy to do if you land in an out of the way place, and dealing damage to opponents in a single match shouldn't be that hard in large team modes. So are you gearing up for Fortnite Season 6 Week 7 challenges now? For more guide and news on Fortnite, stay tuned for our website:
5mmo.com
.