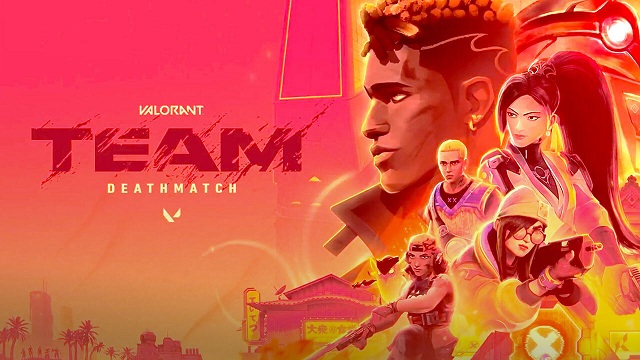 Many Valorant fans are excited about the upcoming game mode called Team Deathmatch. They are curious of this new game mode and want to know more information about it. If you are also interested in Valorant's news, you can read this article carefully. Players can get
Cheap Valorant Gift Cards
to unlock good weapon skins for characters in the game shop.
Valorant Team Deathmatch Release Date
Valorant is getting a team deathmatch game mode as part of Episode 7 Act 1 that will see two teams of players compete across three new maps to be the first to 100 kills. The new game mode will launch as part of Patch 7.0 on June 27.
What's Valorant Team Deathmatch?
Players, split into teams of five, progress through four stages of combat, each with a unique loadout of weapons in the spawn room. The new mode has three new maps that were made for Team Deathmatch.
Players can use different weapons and recharge their agent abilities to gain the upper hand against their opponents.
How Valorant Team Deathmatch Works
Valorant's TDM is a 5v5 game mode that will pit you against an enemy team in one of three new maps, all custom-made for this mode.
Players will respawn every 1.5 seconds and will get to choose their loadout for each stage – at the start of the match or anytime in the spawn room. There will be four timed stages with no economy involved and a simple objective – the first team getting 100 kills will win. If a team can't get to 100 kills, then the team in the lead will be the winner. However, if the scores are level at the end of a match, it'll end in a draw.
Unlike in normal Deathmatch, Agents' abilities can be used, making TDM the perfect game mode for warmup before entering Competitive matchmaking. Players can also find weapon spawners placed all around the map, allowing you to try different guns at times.
Valorant Team Deathmatch maps
The new mode has three new custom maps with similar features to existing Valorant maps. Piazza, District, and Kasbah have elements from Ascent, Split, and Bind, respectively.
Piazza has an open mid area, overlooked by higher ground. While the high ground gives players a better vantage point, the area has two flank spots from the huts on either side.
District is a map with a long lane to one side and a horseshoe-shaped building on the opposite end that can be used to control mid.
Kasbah is an arena-style map with different connections to the middle of the map. It will be a king-of-the-hill type map because the center holds most of the resources.
The Weapon Loadouts in Valorant Team Deathmatch
Similar to regular Deathmatch, Team Deathmatch will feature a varying set of weapon loadouts that do not cost any economy or credits. So those looking to try out certain guns during the map can do so. However, unlike regular deathmatch, you only have a specific set of VALORANT weapons in the Spawn Room. Additionally, you will only be able to stay in the Spawn Room for 15 seconds before you start to take damage.
Weapons are also scattered throughout each of the three custom maps in VALORANT Team Deathmatch. The selection of weapons is dependent on the map and stage of the game. The spawn of these weapons will change match by match.
Players can read this article and prepare for the official release of Valorant Team Deathmatch mode. You can also
Buy Valorant Gift Cards
to unlock the latest agents and play rank matches.