WoW WotLK Hunter Class Guide: How to Build the Survival Hunter for PvE Mode in WotLK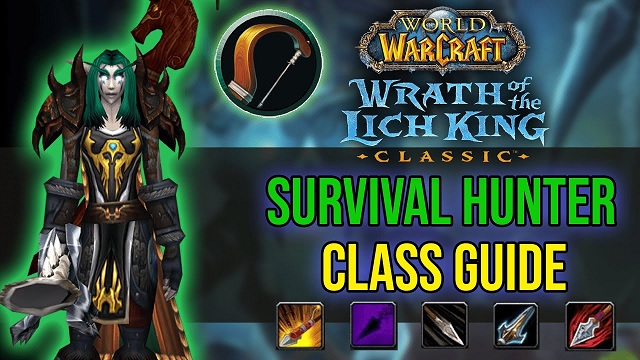 Many players who love playing WoW Classic are excited about the release of WoW WotLK expansion. They are willing to explore the world of WotLK with their desired class. Some players especially like the Hunter class in WotLK, and they want to know how to build the Survival Hunter for PvE mode in the game. If you are also interested in this class, you can read this article for guidance. Players can get
Cheap WoW WotLK Gold
to buy rare materials for crafting good gear for characters in the game.
The Survival Hunter in WoW WotLK
Hunters are master marksmen and, with the help of a fierce animal companion, can deal damage from range without ever letting their target get close. With special tracking abilities, traps, and a wide range of utility spells, Hunters are a great choice for anyone looking for a strong solo class with incredible ranged damage and unique utility.
Survival Hunters specifically focus on dealing massive damage through their traps and DoT-based shots. While Survival was overshadowed slightly by Beast Mastery in TBC, they are the premier Hunter spec for at least the first tier of Wrath.
Strengths & Weaknesses of Survival Hunter in WotLK
Strengths:
Fun and engaging playstyle with trap weaving and strong in early phases.
Amazing aoe potential through Explosive Trap, and Volley.
Excellent crowd control in the form of Frost Trap to slow entire groups of enemies down, or Freezing Trap to completely take one enemy out of a fight with increased duration.
Weaknesses:
Survival Hunters fall off in late game.
Expose Weakness is no longer a raid wide debuff applied to the boss, instead only a personal debuff. Survival only provides a mana regen raid buff that will already be supplied by another class.
Survival Hunters may potentially be worse than Marksmanship right from the start in Phase 1 due to starting on patch 3.3.5 and the nerfs associated with the Survival specialization.
Weakest of the three leveling specializations. While not terrible and still viable, Survival is definitely the weakest of the three specializations for leveling.
New Talents for Survival Hunter in WotLK
Auto Shot: A huge change for hunters in Wrath of the Lich King is how Auto Shot works with Hunters. Previously, Hunters would have to ensure they don't "clip" their auto shots. Essentially, players would have to ensure they're not using any other abilities on your attack timer to always auto shot on time. If you interrupted the automatic attacks, this was known as "clipping," and it was a DPS loss. That's all a thing of the past now; your Auto Shot will attack even when using abilities such as Steady Shot that have a cast timer. This is a very welcome update for the class.
Best Alliance Races for Hunters
The best Hunter Alliance race is ultimately a personal choice for PvE, with a slight lean towards Draenei.
For PvE, Draenei will be the best choice early on because of Heroic Presence IconHeroic Presence. This is incredibly useful in getting the Hit cap early, and is even a party-wide aura. However, this just means that each group in a raid only needs one Draenei for the entire group to benefit from the aura. All Shamans will be Draenei for the Alliance, so they usually have that covered, but it does give you another buff you bring to raids. However, Night Elf and Dwarf offer no meaningful PvE benefits other than Night Elf having a slightly higher base Agility, so if you did want to make the investment, you could.
If players want to play the Survival Hunter in WotLK Classic, you can read this article for guidance. And you will know the strengths and weaknesses of Survival Hunter for PvE mode. Then, you can change the way to build the balanced hunter in time in WotLK. At the same time, you can
Buy WoW Classic WotLK Gold
to search good gear for hunters, which enhances their capacities in battle against enemies.