FIFA 22 Goalkeepers List: Brief Introduction of Top 10 Highest Ranked Goalkeepers in FUT 22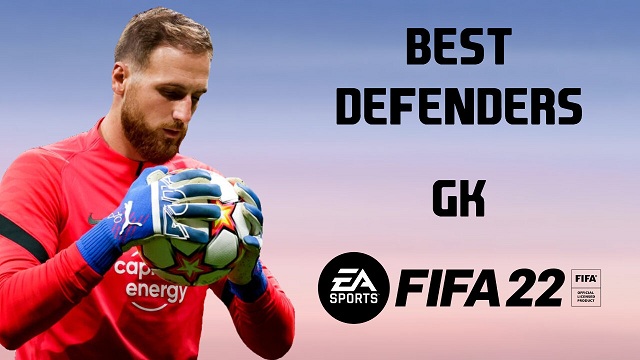 Players are looking for the best players to support the team further in FIFA 22. The goalkeeper is also one of the most important position on the pitch. If the goalkeeper make an error on the pitch, the opponent will score a goal. A good goalkeeper is an essential part of Ultimate Team in FIFA 22. Players can buy
FUT 22 Coins
to select great players from different positions to enhance the ability of team in FIFA 22.
Players are eager to buy goalkeepers that have the highest skill in order to save their team in dangerous situations. There are lots of high-ranked goalkeepers in FIFA 22. Players need select one of the best goalkeepers to defend against powerful attack from opponents.
10.Wojciech Szczesny (87)
Szczesny had an average season with Juventus. And Juventus as the Italian side failed to win the champion for the first time since 2010/11 season. He had made many normal mistakes on the field, which made Juventus lose many goals.
In the league, Szczesny conceded 32 goals in 30 appearances, and he had a save percentage of just 68.93%. His overall rating is 87, which makes him in the top 10 goalkeepers in the game. His general stats are 88 reflexes, 87 positioning, 86 diving, and 82 handing.
9.Hugo Lloris (87)
Hugo Lloris as the Tottenham captain has been an important figure among the sticks for the club. He has appeared every single match for the club and have a total of 12 clean sheets in the league. Although the club did not have a good season, Lloris kept performing at high level.
Lloris has kept his rating of 87 from FIFA 21. Even he is 33 years old, Lloris is one of the best goalkeepers in FIFA 22, who can provide a main boost to this team. Lloris stats are 90 reflexes, 88 diving, 84 positioning and 83 handling.
8.Keylor Navas (88)
Keylor Navas has been one of the best goalkeepers in the past few seasons. He played an important role in Real Madrid's Consecutive Champions League runs. He will go to Paris Saint Germain for a new adventure after Real Madrid.
Although Navas' wonderful performances show in the French club, the French Champion turns to Lille. Meanwhile, EA did not focus on his performance. His rating increases to 88. His stats are 89 reflexes, 89 diving, 87 positioning, and 84 handling.
7.Gianluigi Donnarumma (89)
This young goalkeeper makes a successful EURO campaign with Italy, who win the competition in the end. Donnarumma was award the player of the tournament for his heroics. He also performed well in the match against England. He saves two penalties for his team in the match.
EA has increased his rating from 85 to 89. His general stats are 91 diving, 90 reflexes, 85 positioning, and 83 handling. He will become one of the most potential goalkeepers in the game.
6.Ederson (89)
Ederson had a wonderful season with Manchester City, and they had got another Premier League title. He finished the season with 19 clean sheets, which was awarded with the Golden Glove in the end.
After a successful season, EA has improve his overall rating to 89. His general stats are 88 positioning, 88 reflexes, 87 diving, 82 handling.
5.Thilbaut Courtois (89)
Thilbaut Courtois was one of the best goalkeepers in Real Madrid, which paid a lot of money to buy him from Chelsea.
The Belgium goalkeeper has an overall rating of 89 in FIFA 22. His general stats are 89 handling, 88 reflexes, 86 positioning and 84 diving.
4.Alisson Becker (89)
The Liverpool goalkeeper had bad performances in the early matches of Premier League last season, which leads to a downgrade. His overall rating decrease one point to 89.
Despite the decrease of his rating, he is still an important player in the team. His general rating are 90 positioning, 89 reflexes, 86 handling and 86 diving.
3.Ter Stegen (90)
It is surprised that Ter Stegen is one of the top 3 goalkeepers in FIFA 22. However, some of his performances were quite questionable last season. He had conceded 32 goals in 31 appearances.
Ter Stegen has made a lot of errors that had led to goals. People are confused about his 90 overall rating. His general stats are 90 reflexes, 88 diving, 88 positioning, 88 kicking and 85 handling.
2.Manuel Neuer (90)
Manuel Neuer had a successful season with Bayern Munich. They had got many champions in different leagues. However, his performances are not good in National Team.
In FIFA 22, his overall rating is 90. His general stats are 91 kicking, 89 positioning, 88 handing, 88 diving, and 88 reflexes.
1.Jan Oblak (91)
Jan Oblak become the highest-rated goalkeeper in FIFA 22, who is from Atletico Madrid Club. His great performance shows in the league. He only conceded 25 goals in 38 appearances in the matches. What an incredible season for him.
His overall rating is 91 in the game. His general stats are 92 handling, 90 positioning, 90 reflexes and 87 diving. He will be the most expensive goalkeeper in the game.
If players want to buy these great goalkeepers, they can
buy FIFA 22 Coins
to purchase them from the market. You will benefit from the defense of goalkeepers on the field and win the game. Cheap FIFA 22 Coins are sale on 5mmo.com.