Genshin Impact Artifacts Guide: How to Get Desert Pavilion Chronicle Artifacts in new version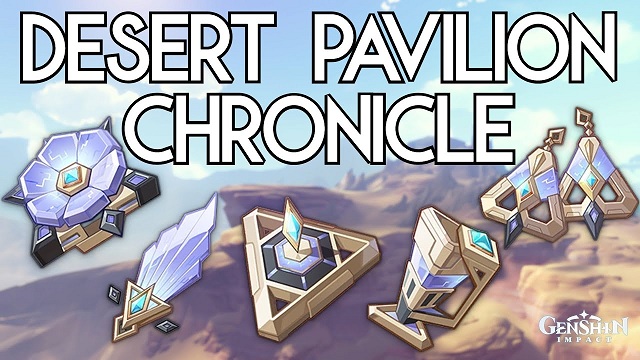 Genshin Impact 3.3 version is available now, players have access to experience new characters and new storyline in the game. And it also introduces the latest artifacts for characters, called Desert Pavilion Chronicle Artifacts. If players have got the Wanderer character in new version, this new artifacts is suitable for Wanderer build in Genshin Impact. Do you want to know how to get Desert Pavilion Chronicle Artifacts? You can read this article and know how to get them quickly. Players can get
Cheap Genshin Impact Accounts
to experience the latest powerful characters and complete new quest in Genshin Impact 3.3 version.
Desert Pavilion Chronicle Artifacts in Genshin Impact 3.3
The Desert Pavilion Chronicle artifacts in Genshin Impact are especially great for Wanderer since, at two pieces, they increase Anemo DMG by 15%, and, at four pieces, they boost Attack SPD and Attack DMG after hitting opponents with Charged Attacks.
Additionally, Wanderer needs a strong team comp to keep him alive and boost his powers ever further on the field. With the appropriate allies and the Desert Pavilion Chronicle artifacts with the proper stats, Wanderer can easily become one of Genshin Impact's strongest characters to date, without even mentioning his high mobility.
How to get Desert Pavilion Chronicle Artifacts in Genshin Impact 3.3
You can get the Desert Pavilion Chronicle set in the City of Gold domain. This domain is found at the Eye of the Sands location in the Sumeru desert.
City of Gold is located in the north corner of the Land of Lower Setekh. Once there, you'll need to complete a short challenge that tasks you with collecting eight Dendro particles. After clearing the challenge, the Domain will become available to you.
The City of Gold Domain will spawn eight enemies, including fungi and Slimes, that spawn in multiple waves. To speed up the monotonous Artifact grind, we recommend the following to help you out:
Bring a non-Hydro DPS unit as the Domain spawns Hydro Slimes, which are immune to the Element.
If possible, bring an Anemo character such as Venti, Kazuha, or Faruzan to group the enemies.
Use Attack and Crit-boosting food or Element-boosting Essential Oils to increase your damage output.
We also recommend utilizing a Freeze team with an Anemo character like Venti or Kazuha. Group up the enemies using his ability and defeat all the enemies in one strike. After beating these enemies, head to the tree at the back of the domain. Activate it to receive your rewards, which will randomly drop one of two artifacts found in this domain. You will need at least 20 Resin or 1 Condensed Resin to claim your rewards.
Best Character for Desert Pavilion Chronicle Artifacts
Wanderer
This artifacts set was released alongside him, so it's hard to not see the connection here. Wanderer is an on-field DPS character that relies mostly on his Normal and Charged Attacks while hovering, ending it with a huge step-on-me moment. Attack Speed is a very rare buff to find and increases his total damage output. He's also a Catalyst user which means every single hit of his will benefit from 2-pieces.
If players are still looking for how to get the Desert Pavilion Chronicle Artifacts, you can follow the guidance from this article. Although it is not easy to collect the full artifacts, you should stick to completing various quests for gather them in the end. And if you want to find good characters to build a good team in the game, you can
Buy Genshin Impact Accounts
to select the good characters and make the great team for 3,3 version.