Genshin Impact Platform Guide: Is There a Difference Between Mobile, PS4, and PC Versions?
Genshin Impact is developed and published by miHoYo, which is a fantasy open-world action role-playing video game. It was released for Microsoft Windows, PlayStation 4, Android and iOS. Considering that Genshin Impact is free on all its available platforms, you should just play it on whatever compatible phone, console, or PC you have handy. But is there a difference between mobile, PS4, and PC versions of Genshin Impact? Absolutely "Yes". This article will tell you more details.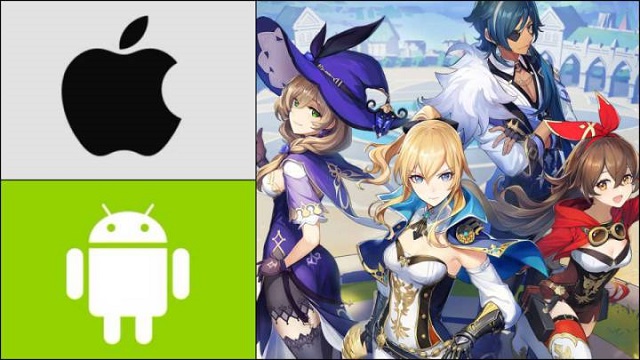 The most significant difference between each of the versions is how you interact with the game, either tapping on your phone screen, being hooked up to a TV with a controller, or playing on your PC with a keyboard and mouse. But there are also other differences between the mobile, PC, and console versions of Genshin Impact.

Which Genshin Impact version should I play?
The visuals and controls will be better on PC and PS4 compared to mobile, but the game still works really well on a phone. Controlling your actions with screen taps isn't as easy as using a mouse or a controller. And since Genshin Impact currently doesn't have official controller support at launch, you cannot hook up a PS4 controller or Xbox One Controller to your phone to play this game. So if you were hoping to use a controller or keyboard, you might want to go with the PS4 or PC versions of Genshin Impact.

Cross-saves
Genshin Impact can currently be played on Android, iOS, PC, and PS4. It's supposedly also coming to the Nintendo Switch, but no release date has been given yet for that console. You can hop back and forth between playing the game on PC or mobile. However, the PS4 does not support cross-saves, so you'll only be able to play on Sony's PS4 consoles if you start a game on this platform.

Controls and selections
Anyone playing on a PS4 will control their characters or select items via controller while those on PC will use a mouse and keyboard. Mobile players will spend time tapping the screen to perform these same functions. As of right now, Genshin Impact does not have official controller support at launch, so you cannot connect a PS4 controller, Xbox One controller, or any other type of controller to the game.

Graphics and resolution
For the most part, the visuals will be a lot crisper on a console or PC, as seen in the video above. However, considering that phone screens are so small, you likely won't be bothered by the lower resolution when playing the mobile version. Additionally, mobile and PC users have the ability to change graphical settings. However, anyone playing on PS4 will be stuck with the default option.

Mechanics and performance
There are likely dozens of differences between each of the game versions, but here are some notable ones:
Aiming and shooting projectiles seems to be easiest on PC and PS4 since a player's fingers don't get in the way of the screen. Mobile players can use Elemental Burst Attacks from all party members, even if a player is switched out. This is not the case for PC or PS4. Finally, there's a bit of a lag when picking up items in the PS4 version. Players often have to wait around an item for a few seconds before registering as something you can interact with. This doesn't seem to be as common of an issue on mobile or PC.
The games seem to operate well enough on all platforms. However, performance will be affected by your internet connection and the device you're playing on. You'll also want to consider Genshin Impact's minimum requirements before determining where to download it.

Genshin Impact versions Mobile vs PC vs PS4
Whether you're playing on Android, iOS, PS4, PC, Genshin Impact is a fun RPG. It looks like PC might be the best version to go with since it uses cross-saves with the mobile versions and offers better handling controls.
As an open-world action role-playing video game, it boils down to one thing: your time. You have to spend your money or grind to get the best characters, weapons, Then you have to take the time to gather the materials so you can level them up. When you buy Genshin Impact account, you save your time and effort. And there's no better marketplace to find accounts with great Genshin Impact characters than 5mmo.com!
Genshin Impact Accounts
for Hot Sale at
5mmo.com
, cheap, safe&fast. Join us, get the best price! Welcome!