The latest Forza Horizon 4 update, Series 6 update is now live on various Forza Horizon 4 platforms. On the night of Feburary 11 th, Playground Games studio broadcast a livestream, revealing what's coming in the Series 6 update. You can check the video below. As you can see in the video, this latest monthly update for the shared open-world racing game introduces a host of new feature additions and vehicles. For more details of these new changes, keep on reading.
New Car Pass Cars
In terms of franchise-fresh metal, there's the reborn TVR Griffith. Power comes courtesy of a Ford-sourced (and Cosworth-fettled) 5.0-liter V8 engine, putting out 480hp to the rear wheels only.
The other Car Pass car is a returning face for Forza. It is the 1959 Cadillac Eldorado Biarritz convertible which last showed up in Forza Motorsport 4as DLC in 2012. however, the stylish cruiser certainly makes more sense in Horizon. So, if you wanna add the 1959 Cadillac Eldorado Biarritz convertible to your car collection, come to 5mmo.com for Cheap Forza Horizon 4 Credits. you can buy them at the cheapest price online. Moreover, with using coupon code "5MMO", you can enjoy additional 3% off. So, don't miss out!

You may find that this time there's only two cars, where previous months featured eight. Well, time has flown, because the TVR and Caddy add up to Playgrounds' original 42-car quote for the Car Pass.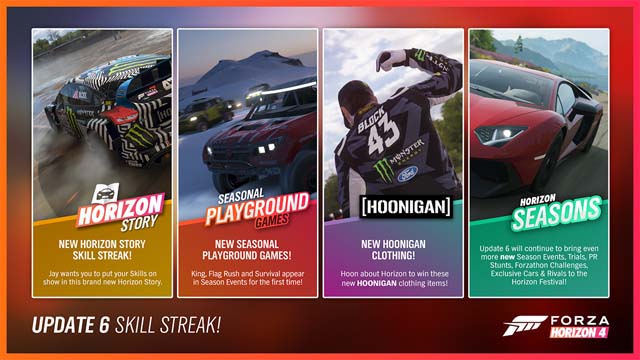 Series 6 Prize Cars: More TVR, '90s JDM, and Final Fantasy Behemoths
Although the Griffith and Eldorado are for Car Pass holders, there will be plenty of other metal for all players during the next weeks. For example, the Regalia Quartz, a 25-foot monster of a cruiser, which first appears in Forza Horizon 3. additionally, it seems that more sane metal will show up in the form of two 1994 Japanese coupes.
Besides,to celebrate the Griffith, The TVR Tuscan S joins prize cars. This is the first time the car has shown up in the franchise this generation.
New Seasonal Championships For Street Races and Playground Games
Additionally, from February 14th, new dedicated Seasonal Championships for Playground Games in Forza Horizon 4 will become available to compete in. Each of these Seasonal Championships will be made up of five events consisting of Survival, King and Flag Rush modes. These mini-games are typically played as teams with other online players and can be accessed by driving towards the designated arenas marked on the map. Players can also unlock exclusive rewards by completing those Seasonal Championship.
New Story "Skill Streak"
Finally, a new Horizon Story, "Skill Streak", which features driving with style and pulling off skills out on the street will also be added to the game. Unlocked at Level 60, this latest set of Bucket List-inspired challenges will see you behind the wheel of cars owned by Jaimin "Jay" Shah, an avid street racer at the Horizon Festival, including the likes of the Porsche 918 Spyder, the Bugatti EB110 Super Sport and Ken Block's Ford Focus RS RX – the latter of which is unlocked for your garage once you've accumulated all the stars available in this Horizon Story.