Here Are Full Details of Two New Operators And New Map of Rainbow Six Siege: Operation Wind Bastion
Last week is a eventful week in Rainbow Six Siege gamers. During the weekend, Rainbow Six Siege is available to play for free on PS4, Xbox One and PC. In addition, Ubisoft unveiled
Operation Wind Bastion
officially
at the Pro League Finals taking place in Rio de Janeiro, Brazil
, giving us a much better look at
new operators Nomad and Kaid as well as Siege' s newest map: Fortress
. Earlier a week before, Ubisoft has announced the upcoming of the next season of Rainbow Six Siege, and fans have been excited and curious about the full details of the new season. Today, 5mmo.com will be walking you through all the latest details of the new expansion.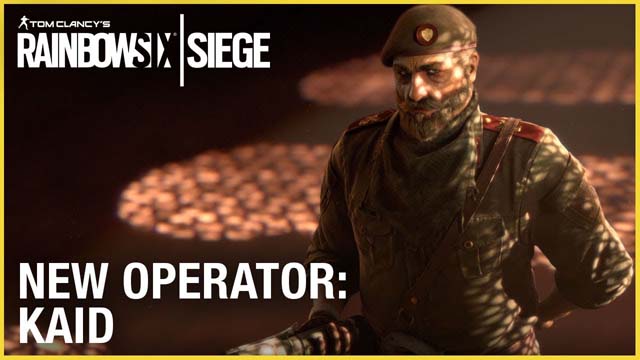 Kaid
Kaid is a 3-armor defender this year. His slower pace is an important distinction here, because his gadget, the Rtila Electroclaw, competes directly with Bandit's Shock Wire batteries. When latched onto any surface, Kaid's three Rtilas will electrocute anything within their short range. Its simple function makes it viable for all sorts of defenses. Placed strategically, a single Rtila can do the work of three or four Bandit batteries: simultaneously zapping a wall, two bandit wires, and a deployable shield. But most importantly, sticking an Rtila within range of a reinforced hatch allows defenders to protect them against breachers above.
Besides, Kaid also has his own disadvantages. First, Kaid cannot bandit trick Thermite's breaching charge thanks to the few seconds between placing the Rtila and its activation. Ubi said it is possible to negate Hibana's breaching pellets, but only with exact timing. Secondly, Kaid doesn't have the speed and roaming potential of Bandit. Roaming is an important role for the defense, so it won't always make sense to take a slow-moving anchor. By the way, you can buy
Cheap R6 Credits
from
5mmo.com
, a reliable, cheap online in-game currency store. Besides, you can enjojy a 3% discount at our website by using the code "
5MMO
".
Nomad
attacker operator Nomad is a two speed, two armor operator armed with the Air Jab Launcher. The launcher fires a proximity mine that, when detonated by the enemy team, pushes them (and any nearby teammates) back and briefly knocks them over, allowing Nomad to blow defenders out of cover, create a defensive perimeter or even disarm shield operators for a short time. Characters caught by the Air Jab will break any destructible wall they crash into, and they can be pushed off tall ledges for some potential fall kills.
Despite the powerful tool, she has a few big weaknesses, particularly in the form of Jager whose own gadget can disable the Air Jab. The Air Jab also affects teammates, too, meaning using it in close-range skirmishes might prove to be more of a hindrance than a help.
Fortress
The fortress is a military training facility located in the Atlas Mountains, and it serves as the headquarters and a living space for Kaid, who lives in a mud-brick kasbah with architecture that is unique to the southern region of Morocco. The place has some portraits of Kaid, who is commander of the kasbah and trained operators, such as Nomad, hanging in the halls. It's a beautiful place inspired by real places, but it's a fictional location. The place is like a heavily defended palace, with a lot of open space, two stories, points of cover and lines of sight for both close-range and long-range engagements. It's a fairly large map. You can climb ropes to the top of the roof from any location. At the moment, a date for Operation Wind Bastion has yet to be announced. However, it will almost definitely be available on the Rainbow Six Siege PC Test Server before it hits the main build on all platforms.