The full patch notes for Rainbow Six Siege' s Wind Bastion
are out now, marking the start of Siege's Year 3, Season 4, which is the final season of 2018. the new update features some major updates to Tom Clancy's Rainbow Six Siege,
expand on its hit tactical shooter, and further details two new playable Operators, alongside the new Fortress multiplayer map
. Besides, there are some other miscellaneous changes to Rainbow Six Siege. Now let's dive into full details of the latest updates.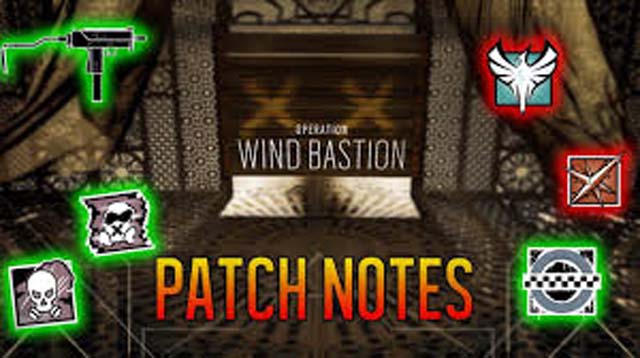 Despite a few weeks before the official release of Operation Wind Bastion in December 2018 , gamers can already try Operation Wind Bastion's new map and Operators on the PC version's test servers starting November 20.
The above-the-fold stuff in the Operation Wind Bastion update is all about two new Operators and an additional multiplayer map. First, Nomad is the new Attacker Operator, who possesses unmatched resilience to survive the elements and her endurance is famous within military circles. Her top conditioning and her repertoire of unique skills were more than enough to warrant an invitation. Sanaa "Nomad" El Maktoub is both an introspective dreamer and a practical survivalist, and she' s joining Rainbow Six. Besides, her custom rifle attachment allows her to launch Airjab repulsion grenades. They can explode midair when in close proximity to an enemy or they can stick to a surface and detonate later, again when an enemy is within range. Nomad enters the field with four Airjab grenades. These pushback devices are non-lethal but they disorient those affected. Then comes the new defender Kaid. Kaid' s Rtila Electroclaw can electrify reinforced walls and hatches, barbed wire, and deployable shields, making it tougher for the enemy to breach the Kasbah and any facility he's tasked with protecting. He enters the field with three of these throwable gadgets. Once they've attached themselves to a surface, they each electrify metallic objects within a 0.75 meter radius. By the way, you can buy
Cheap R6 Credits
from
5mmo.com
, a cheap, reliable online in-game currency store.
The new map is called Fortress, which is a military training facility located in the Atlas Mountains, and it serves as the headquarters and a living space for Kaid, offering numerous roof access points for Attackers, as well as several staircases and ladders for Defenders to set up traps and choke points. The place is like a heavily defended palace, with a lot of open space, two stories, points of cover and lines of sight for both close-range and long-range engagements. It's a fairly large map.
The updates also include some changes to hit operators in Rainbow Six Siege. First, Ubisoft is giving Mute another loadout option: in addition to his P226 Mk 25 handgun, now he'll have the choice to equip the SMG-11 carried by Sledge and Smoke. That's accompanied by a bump up in the SMG-11's damage, and together the changes give Mute a significant increase in flexibility. A few other operators are getting tweaks with the Wind Bastion update as well. For example, Clash, who was recently introduced with Operation Grim Sky, is getting a damage buff to her shield's electrical output, from 3 to 5 points per tick. In addition, Zofia will only be able to carry two concussion grenades, instead of the current three. You can check the full detail of the update in the above video. Finally, don't miss the early hands-on for full impressions on Kaid and Nomad, alongside the new Fortress map.