When playing
Air Battles in War Thunder
, many player are stuck in such an situation: when their plane climb high, and enter the highest battle you see and when you and your enemies start flying head to head, no matter where you aim the cannons and fire, you are the one who ends up dying. One or two shots from his cannon and boom, then you are dead, while his plane gets away with little to no damage. To help you out, today, we've made up this
Air Battle guide
with some realistic tips to maximize your winning in air battles next time.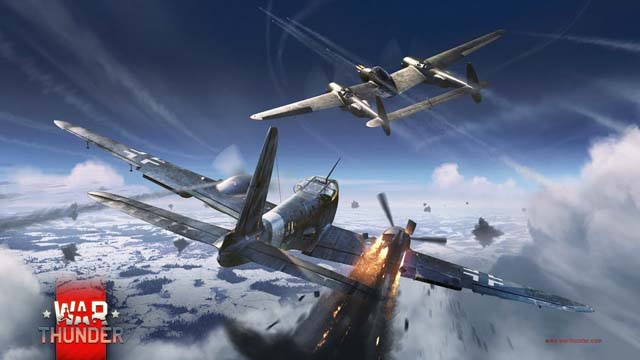 Situational Awareness
Always be looking around. You should always try to keep your eye on your opponent and never let yourself be deceived by ruses. Always keep an eye on your enemy. Expert pilots will always set you up for a bait either for a team mate or for themselves. A expert pilot does not lose vision of his foe, losing vision on your opponent surrenders the advantage to your opponent. Last,never be distracted from your opponent.
Avoiding The Head on
For new beginner, one of the big mistakes they often make is to head on. In fact, Head ons are very risky, even with firepower superiority. Both planes are likely to be heavily damaged even if they get a kill. At worst, you fly headlong into the other plane and neither of you gets the kill. Don't head on heavy fighters, like Beaufighters, Do 217s, Me 410s, Ki 45s, etc. Try to maneuver behind your target so they can't shoot back. If you are fast, climb above your target. If you are maneuverable, use your turn ability to get on the enemies'tail.
Know Your Plane/ Know Your Enemies
Sifting through every stat on your own aircraft is only part of the process. Know its strengths and weaknesses. Play to your strengths, avoid your weaknesses. Most importantly, get a general idea of how maneuverable the plane you're using is. Invest some time into researching any planes you've found particularly troublesome before and you can identify their pitfalls in order to get the upper hand next time you meet. Wanna unlock more planes, come and buy
Cheap War Thunder Golden Eagles
at
5mmo.com
, where you can enjoy the cheapest price online by using the code "
5MMO
" for a 3% discount.
Open Fire Only at Close Range, and then only When The Ppponent is Squarely in Your Sights.
A common rookie's urge was to start blasting away upon sighting his first enemy machine. Shots taken at ranges of 1000 m (3280 ft) stood little chance of hitting their mark. Tracer fire and hits to a plane would alert the enemy pilot that he is under attack and for them to react to your attack and more of the rounds you fire will hit the enemy target. Always make your first shots count, do not try to spray and pray as that would also inform the enemy plane that you are a terrible shooter. At close range it's easier to lead your target.
Assail Your Opponent from behind
In any type of attack, it is essential to assail your opponent from behind. The lead indicator in Arcade mode makes deflection shooting (from the side) easier, but it's only a guide, it's better to attack from directly behind if possible. Head-on attacks are a very risky business, you've as much chance of having your own pilot or engine knocked out as of scoring a kill, and if you survive the gunfire then there's still a high probability of a collision.
Avoiding The Bounce
If your opponent dives on you, do not try to get around his attack, but fly to meet it – if someone is diving on you, chances are they have a speed advantage so try to run rarely works, turning in to them at least minimize their opportunity for a shot. Another technique is to do a split S. You won't be in a position to counterattack, but it is a very effective way to avoid the attack.
For more pro air battle tips, check the video above. For more on War Thunder, stay tuned for
5mmo.com
.