Madden 23 Ultimate Team Season 1: How to Play MUT 23 and Get Field Pass Rewards Quickly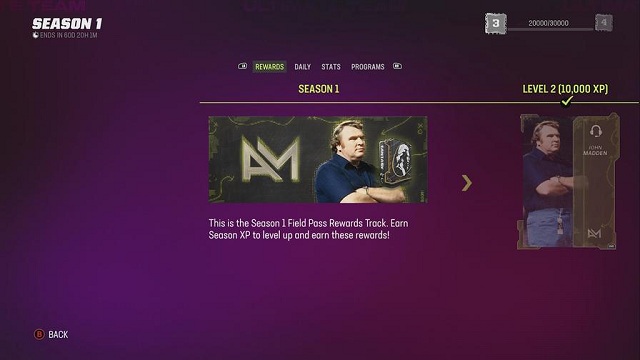 Now, players have access to play the latest Madden Series: Madden 23. As one of the most attractive modes in Madden Series, Madden 23 Ultimate Team Mode appeals most players' attraction. EA Sports has introduced new features in the Madden 23 Ultimate Team. Players need enjoy themselves in the competitive matches and try their best to win each match in Madden 23. The Madden 23 Ultimate Team Season 1 is coming. A lot of rewards are waiting for you to get in this season. You will also get a lot of
MUT 23 Coins
through complete various quests or challenges in MUT 23.
How to Start Playing MUT 23
The first thing you're going to do when you log into Madden 23 Ultimate Team is the Start Your Ultimate Team Challenge. There's only one goal in this challenge and that's to unlock your starter team. From there, you can complete challenges to earn the 83 OVR Joe Burrow. These MUT 23 challenges will also help you level up in the first Season of Madden 23 Ultimate Team.
Here are a few tasks you'll need to complete:
Finish The Drive:
Complete your first drive in MUT 23
Air It Out:
Complete three passes in the first quarter
Move The Chains:
Gain 10+ yards on this drive
These normal taks in the beginning of Madden 23 Ultimate Team will help you familiar with everything in MUT 23 and make good progress in the future.
What's the Field Pass in Madden 23 Ultimate Team?
The Field Pass (essentially a battle pass) is coming to Ultimate Team in Madden 23. By competing challenges, players will unlock tiers of rewards. For season 1, multiple Field Passes will be available including seasonal, competitive, and Ultimate Team program-specific passes. Field Passes are offered to every Madden 23 player at no additional cost. The seasonal pass for Season 1 will have 60 tiers and will run for around 60 days. The competitive pass challenges players with competitive-mode-specific objectives and will offer coins and packs, as well as a high OVR player. The competitive pass will reset every two weeks.
Madden 23 Ultimate Team Season 1 Start Date
We should know when Season 1 of Madden 23 Ultimate Team will begin.
The first season of many will begin officially when Early Access kicks in which is August 16, 2022, three days before the official release date of August 19, 2022. One of the important things to remember is that each season will last 60 days which means Madden 23 Ultimate Team Season 1 will end on September 30, 2022.
How to Get Field Pass Rewards Quickly in MUT 23
There are 3 major objective categories to earn XP in order to level up your Season Field Pass: Daily, Stats, and Programs.
Daily objectives refresh every 24 hours and provide easy objectives for a small amount of Season XP, a random Strategy Item, and a Daily Coin Quicksell Pack each day.
Stats are cumulative stat totals earned across all game modes and reward larger amounts of Season XP.
Programs are the final way to earn Season XP through engaging with different competitive events, Team Affinity, and new programs as they are released throughout Season 1, starting with Headliners.
If you want to make good progress in the beginning of MUT 23, you have to join in Madden 23 as soon as possible. You can also
Buy Madden 23 Coins
to purchase good players for your team in order to win more matches in this competitive mode.