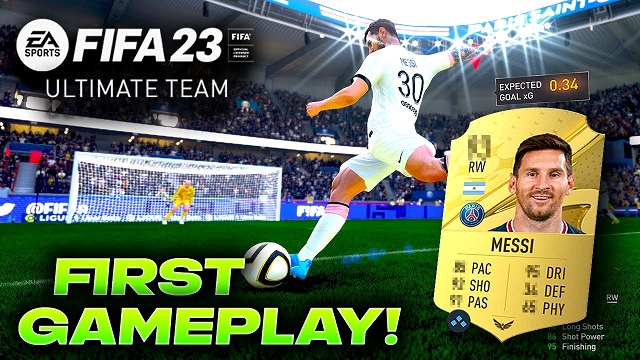 With the official release of FIFA 23, many players can't wait to joining in FIFA 23 matches. FIFA 23 Ultimate Team mode is always the flagship game mode on FIFA Series. Everyone who loves FUT 23 is willing to build their unique team in this mode. While, in order to play well in FUT 23, it is time for you to learn some essential tips before starting playing matches. Players can use
FUT 23 Coins
to level up their ultimate team in time and compete against other opponents in FIFA 23.
Tips for Playing FIFA 23 Ultimate Team mode
Understand and follow the META in FIFA 23
In every FIFA game, there is always a META. For those who do not know what this is, the META is referring to what the strongest strategies are currently in the pace. An easy example of this is to make sure you have fast centre-backs. As updates come about over the course of FIFA 23, the META can change, so make sure you understand what the current META is and make sure your team is built around it.
Pay Attention to Apply Chemistry Styles
Player cards can have chemistry styles applied to them, boosting different sets of skills. These chemistry style changes do make a big difference, with players performing noticeably better than they would if they were using the Basic archetype. The best central midfielders in FIFA 23 will be boosted further with chemistry styles.
Check a player's stats and use that to gauge which chemistry style to use. Players can either use these cards to buff a set of weaker stats and lead to a better all-round card, or further buff stats that are already high for a more overpowering feel.
Complete FUT Moments
FUT Moments are new single-player challenges featuring some memorable moments in football that gamers can complete for rewards. It's brand new to FIFA 23 and will feature a constant flow of challenges that are added all FUT throughout the season.
Players who complete these FUT Moments will be able to earn FUT Stars that they can then use to unlock rewards in the FIFA 23 Star Gallery. The more complicated the challenge, the more FUT Stars you'll be able to earn.
FUT Moments is a great place to obtain high-level player cards without needing to spend FIFA Points or coins.
Try to Build a Cheap and Strong FUT Team in the Beginning
When you start a new FIFA game, you need to make sure you have a decent squad as soon as possible. This squad doesn't have to be full of world beaters, it just has to have players who have some META stats. At the start of FIFA 23, you should be able to make an overpowered starting team for around 30-50k. Don't hoard your coins at the start, make sure you have a good starter squad and then you can start to save for higher rated and special players.
Learn to Trade Players in the Transfer Market
Learn the ins and outs of the Transfer Market. When completing Squad Based Challenges, you're going to spend some time in the Transfer Market looking for the right player to finish an objective.
It's a good idea to buy common gold players when they are below 450 coins and sell them during a popular SBC where they might go for a few hundred coins more.
When you start to play FIFA 23 Ultimate Team mode, you can try to experiment these tips in the game in advance. You may have a good beginning in FIFA 23. And in order to find good players, you can
Buy FIFA 23 Coins
to buy Player Packs or trade players from Transfer Market.