After a long time waiting, The first expansion for Forza Horizon 4,
Fortune Island
finally comes out now, featuring
extreme terrain, perilous weather conditions
and bringing gamers' racing experience to new heights. At the moment, Forza Horizon 4's Fortune Island expansion is available on Xbox One and Windows 10 PC for about 20 dollars. Here are further details of the DLC release.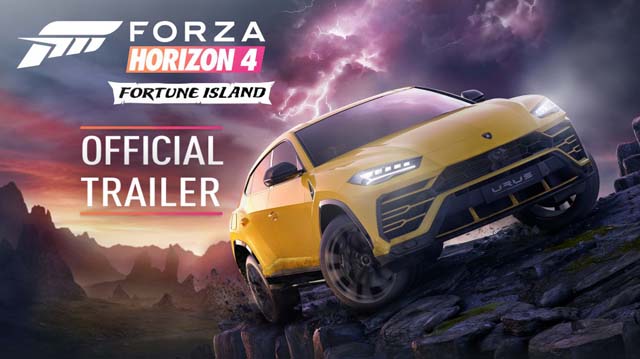 Where and how to get Fortune island?
Here comes the answer to the most anticipated question. Well, Forza Horizon 4's Fortune Island expansion is available on Xbox One and Windows 10 PC for 19.99 dollars and is included for players who own the Forza Horizon 4 Ultimate Edition, the Forza Horizon 4 Expansions Bundle or the Forza Horizon 4 Ultimate Add-Ons Bundle. If you buy ss part of the expansion bundle, the bundle will cost you about $35. If you're a Game Pass subscriber, you get a 10% discount off the standalone or expansion bundle, and the Game Pass itself entitles you to the base game.In addition, Xbox Game Pass members are eligible for 10% off a standalone purchase of Fortune Island or 10% off each bundle. Although earlier time, rumor has it that Forza Horizon 4 is coming to PS4. Obviously, this is wrong. Now fans can only play the game on Xbox One and PC.
What can you expect from Fortune Island?
"Everything you do in Horizon feels valuable, no matter how big or small--from the basic thrills of speeding a fast car down a gorgeous mountain highway to spending time tinkering with your favorite ride to manage seasonal road conditions to just hanging out with friends and strangers online and goofing off in friendly games,"
"The charm of the Horizon series is as palpable as ever, a winning, all-inclusive recipe that celebrates the joy of driving above all else."critic Edmond Tran wrote in GameSpot's Forza Horizon 4 review.
Fortune Island brings new treasure, adventure, and epic driving action to players worldwide. Gamers will enjoy a brand-new Horizon treasure hunt and a host of new driving challenges, with extreme terrain, perilous weather conditions such as atmospheric storms and the Aurora Borealis. Fortune Island cranks the Forza Horizon 4 experience to 11. Want mote fancy cars? Come and buy
Cheap Forza Horizon 4 Credits
at
5mmo.com
, a reliable, cheap online in-game currency store.
Moreover, fortune island also comes with new cars. The expansion will grant you 10 new cars in all, including the 2019 Lamborghini Urus, 2017 Ram Rebel TRX Concept, and the 2018 BMW M5. here's a list of all ten cars:
2019 Lamborghini Urus
2018 BMW M5
2017 Ram 1500 Rebel TRX Concept
2002 Koenigsegg CC8S
2018 Exomotive Exocet Off-Road
2012 Lamborghini Aventador J
2010 Saleen S5S Raptor
1953 Morris Minor Series II Traveler
2018 Funco Motorsports F9
2015 Hoonigan GYMKHANA 8 Ford Fiesta ST RX43
Additionally, true to the name, it includes clues to hunt down hidden treasures. So, players will find themselves on the hunt for treasure once they set tire to road on the new island. Solve the riddles and they'll add millions of credits to their account — as well as new rides. So,no more words and hunt for the treasure now!