Here's An Ultimate Guide For Kingdom Hearts 3 Gummi Ship: Customization, Materials, Blueprints, And Upgrading
Gummi Ship
has always been an important part of the Kingdom Hearts series, especially in
Kingdom Hearts 3, where Gummi Ship receives a bit of an expansion and are added with some other uses.
With Gummi Ship, Sora and the gang are able to be allowed to explore the space between worlds, fight enemies and collect treasures. Therefore, it is necessary and important to upgrade your Gummi Ship, which would help you defend against the threats of the outer space during your Gummi ship exploration. So, if you're wondering how Gummi Ship works, keep reading our Kingdom Hearts 3 Gummi Ship Ultimate Guide.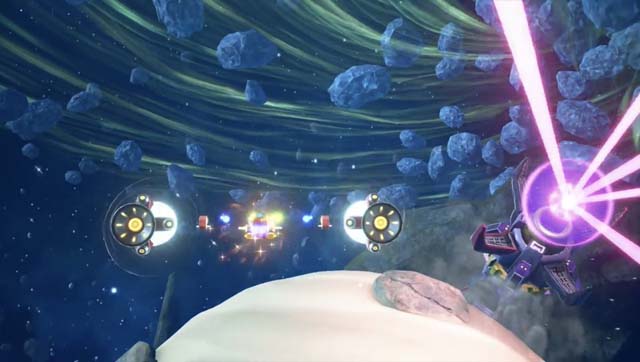 How to Customize Gummi Ship in Kingdom Hearts 3?

To customize your Gummi Ship in Kingdom Hearts 3, you'll need to select the ship you want to edit from the editor available from the world Map. You can edit any blueprint you have in the Samples and Specials section, or you can create a ship from scratch by going to originals and selecting one of the blank slots.

You can get more blocks by searching and finding them in outer space, opening treasure orbs, or buying them from the shop out in the world map, or from Huey, Dewey, and Louie in Twilight Town.

Where to Find Gummi Ship blueprints in Kingdom Hearts 3?

In total, there are two ways to obtain blueprints for the Gummi ship. First, you can buy regular blueprints from the Moogle shop. Although they are pretty good, it can cost you pretty much coins. Thankfully, there are way cheaper blueprints out there. The second way is to look for "Constellations Photographs". When you have located a constellation, align its stars and you will receive a Special Blueprint.

How to Get Gummi Materials in Kingdom Hearts 3?

Gummi materials are very important for ship customization. You can find Gummi materials just about anywhere, you can buy them from the Gummi store, by unlocking treasure spheres, breaking blue crystals, shooting floating rock debris, and by winning Heartless ship battles. The most common way of obtaining them is fighting enemies in space. They often drop these crafting ingredients and those materials tend to be the best. Depending on which of the three galaxies you're in also affects the type of weapon drops you find from blue crystals, Blizzara and Fira cannons in the second whilst Firaga dropping in the third. So, if you haven't try the game, come to 5mmo.com for Cheap Kingdom Hearts 3. As a top online in-game currency store for many years, we receive great population for our cheapest price, fast delivery and definite safety. So, just have a try. In addition, with coupon code "5MMO", you can enjoy additional 3% OFF. Don't miss out!
How to Upgrade The Gummi Ship in Kingdom Hearts 3?

Basically, there are 3 ways to level up your Gummi Ship in KH3. First, collect the Orange Orbs floating in space. As you venture through open space, you will encounter clusters of floating orange orbs. Simply collect enough of them to improve your ship. Secondly, beat enemies, which gains you some EXP that gradually fills up your level bar and make your Gummi Ship stronger. Last on the list is to customize it. By collecting customizations and making a unique design for the Gummi Ship, the ship's stats will receive a significant boost.

There you have all there is to know on the Gummi Ship in Kingdom Hearts 3. For more on Kingdom Hearts 3, stay tuned to 5mmo.com.