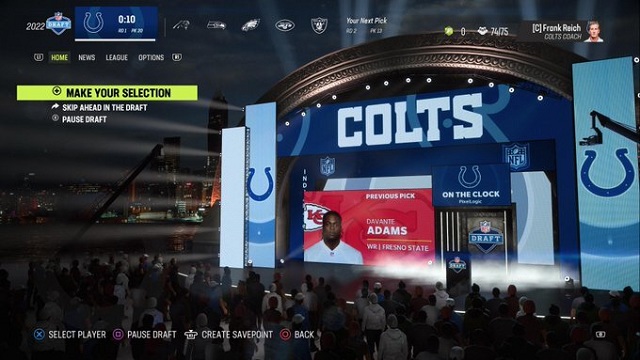 Are you interested in Starting a Fantasy Draft in Madden NFL 23? Fantasy Draft is one of the main game modes of the Madden NFL Series, and you can also play this mode in Madden 23. Some players expect to re-create their franchises and select the best player. If you want to know how to do that, you can learn the guidance by reading this article. Players should try to complete more challenges for rewards including
MUT 23 Coins
in Madden 23.
What's the Fanstsy Draft in Madden 23?
Madden 23 makes Fantasy Draft return. If you don't know what that is, this is a great way to shake up your experience, especially if you want to make a team truly yours.
The mode essentially works like a normal draft at the end of every season – every team will take turns picking a player to join their team. However, this isn't for new up-and-coming rookies, unlike a normal draft. Instead, this mode sets every NFL player to a free agent, and you have a pick of all 3000+ plus players in Madden 23's database. This happens at the start of your save as a one-time event and is a fresh take on a Franchise Mode as teams morph into totally different versions of themselves.
How to Start A Fantasy Draft in Madden NFL 23
To begin your fantasy draft, the first step is to start a save file in Franchise Mode. After selecting "Franchise" on the main menu, you'll select the option "Create New League" which is represented by a plus symbol.
After creating the new league you'll want to choose to "Use Active Roster", be it online or offline. This is an important step, as you cannot start a fantasy draft if you choose "Use Real-Life NFL Roster" or "Use Preseason Roster".
Once the roster imports, you'll be able to decide which team you want to play as. This does not impact your roster, as you'll be drafting your own squad shortly, and doesn't impact the draft order either.
When you have selected a team, go down to the option that says 'Starting Point' and then press on 'Fantasy Draft'. Now you can click on the 'Start Playing' button. There is a 'Start your Fantasy Draft' option that you need to choose now. Afterward, you are now ready to start creating your very own draft. That is all you have to do to start creating your own Fantasy Draft. Time to get ready for achieving victory over your opponents on the field during early access and after the upcoming release day with your own draft.
Be aware that this can take a while, especially if you play with multiple players. Going through a draft with over fifty rounds can take over an hour. Once you have your core together, you can just simulate the draft, and the computer will try to balance out your team with the players left.
Thanks to the return of Fantasy Draft in Madden 23 Franchise Mode, players have access to set and choose their desired players to build the team in this mode. And they can use them to achieve different goals in the long season of Madden 23. Sometimes, players need
Buy Madden 23 Coins
to level up their characters in time and make the team competitive in the matches all the time.