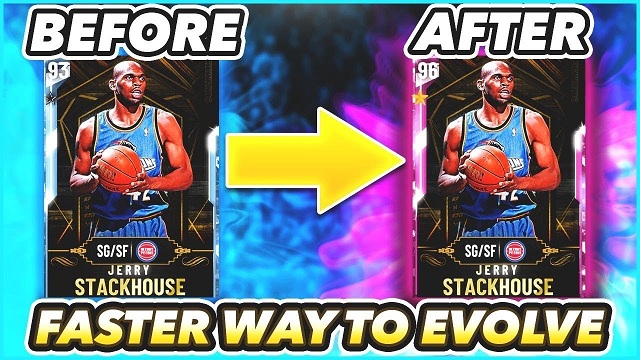 We are all looking forward to the arrival of NBA 2K23, and NBA 2K23's MyTeam mode should also be filled with a variety of different player cards to build your roster, with evolution cards being one of the most dynamic and interesting card names in the game one. Climbing up the XP ladder in NBA 2K23 MyTeam is a long and difficult task, but one that can be easily optimized with the right strategy. You can also upgrade your evolution cards by purchasing
NBA 2K23 Myteam MT
, and below we will also provide you with the best strategies for earning XP in the most time-saving way.
What are Evolution Cards in NBA 2K23 MyTeam?
Evolution cards are MyTeam player cards that can be leveled up through a series of card-specific challenges. When you start MyTeam, you will be prompted to choose an entry card, which will be your first Evolution card. Other evolution cards can be earned by reaching milestones and completing challenges in MyTeam's many different games. Evolution cards have different upgrade levels, each with better stats and a better overall rating.
How to Quickly Get XP Upgrade Evolution Cards in NBA 2K23MyTeam?
Buy Players at the Auction house
In the beginning, you can look for cheap players in the auction house. Upgrade them with the tokens you earn. Playing with a solid team will improve your hourly XP ratio.
Play Park Games in or near the City
The best way to get XP fast is to play many park games in a city or neighborhood. Park games are usually very fast and include 2 VS 2 and 3 VS 3 games. Playing the park game will earn XP very quickly if players can get in without too much waiting.
Complete the Season Agenda
Often you would think that earning XP would be as easy as playing any game mode in MyTeam, but that's not the case. In MyTeam, you have to complete tasks to earn XP. Of course, other rewards are also included, such as 2K23 MT, VC, etc. Agenda is the name given to these tasks, and there are multiple agenda goals this season.
Play Rookie Domination (or Other Easy Game Modes)
Rookie Domination is very easy to knock out challenges, and there is usually a Spotlight challenge that makes certain XP challenges easier to complete.
Complete the Challenge
Towards the end of the season, challenges will give you more XP per minute. Complete easier challenges early in the season, then move on to more difficult challenges as the season progresses.
Keep an Eye out for Events that Offer Double XP or Prestige
Another thing players should be aware of is the double XP/Rep event that happens quite often in the game. These usually take place on weekends, running from Friday to Sunday, and are polished as much as possible throughout the weekend event. Events go on all the time, and each event offers a reward for participating players, which is almost always a boosted XP.
Task
The current and next-gen versions of 2K23 offer questlines in MyCareer that award various rewards for completing objectives, such as gaining specific stats in-game, exploring cities, or talking to NPCs, so completing quests will be fun and will allow you to level up quickly .
Play as Many Games as Possible
One of the quickest and most natural ways to level up in NBA 2K23 is to play as much as possible. You'll get more than twice as much XP if you want.
Play with a Group
Finally, the last easy way to grind XP in NBA 2K23 is to grind with a group of players. This allows each of you to participate in each other's activities and gain XP for all of you in a short amount of time. Most players have been playing NBA 2K23 with friends, so next time everyone is online, this one should be easy to get a nice XP boost.
That's all we have to offer on how to get XP upgrade cards quickly in NBA 2K23. You can also upgrade your evolution card by purchasing
NBA 2K23 MT Coins
online, feel free to inquire.